Benefits of Dental Implants – Spring Hill, TN
The Gold Standard for Replacing Missing Teeth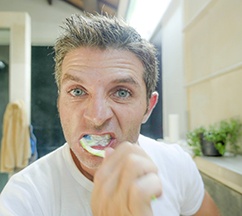 Whether you've lost just one tooth or an entire mouthful, you have more options than ever before for restoring your smile. Instead of traditional prosthetics, more patients are turning to dental implants after tooth loss. Often considered the gold standard for replacing missing teeth, implants are the only solution to replicate the whole structure of a lost tooth, from the root up. This allows them to provide many advantages over other treatments. Here are just a few of the many benefits of dental implants in Spring Hill:
Offers Long-Term Success
Because dental implants form such a powerful bond with your jawbone, they offer a success rate of over 95 percent. With the right aftercare (such as diligent at-home oral hygiene and routine dental checkups and cleanings), they're able to last for several decades, possibly even for the rest of your life. This solution can pay for itself over the years since it should never need to be replaced, unlike conventional bridges and dentures.
Looks Natural
Depending on how many teeth you need to replace, your dental implants can be topped with a custom-made restoration, whether that's a dental crown, bridge, or denture. We typically use all-ceramic materials due to their impressive ability to mimic tooth enamel. Once your dentist in Spring Hill has placed your restoration, it should look like a perfectly natural part of your smile.
Feels Natural
Dental implants fuse with your jawbone, providing a sturdy foundation for your replacement teeth. You'll regain 70% or more of your original biting force, allowing you to chew a variety of crunchy healthy foods like apples and celery.
Strengthens Your Jawbone
Losing just one tooth causes your jawbone to shrink because it's not stimulated by the tooth's root anymore. Since traditional prosthetics only replace the portion of the tooth that's visible above the gumline, they can't prevent this problem, but dental implants can. The post acts as the root of your lost tooth, stimulating the jawbone and encouraging the growth of new bone mass. This keeps the bone strong enough to support your facial structures and prevent premature sagging and wrinkling.
Stops Dental Drift
When a tooth is lost, the teeth surrounding it start drifting out of place in an attempt to fill the gap. Dental drift increases your risk for numerous oral health problems, such as bite misalignment, gum disease, cavities, and even further tooth loss. Filling the gap with a dental implant keeps the adjacent teeth in their place.
Discover the Benefits of Dental Implants Today!
If you're ready to start rebuilding your smile after tooth loss, we invite you to discover the benefits of dental implants for yourself. To schedule your dental implant consultation, contact Family Dental Associates at Campbell Station. We look forward to helping you invest in the most beneficial way to replace missing teeth.