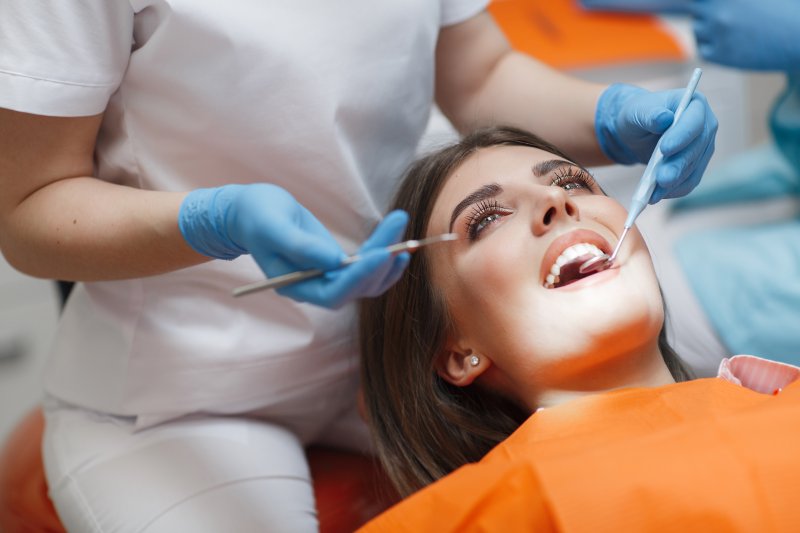 With January almost here, you're likely prepping for the new year. You may even be laying out your goals and aspirations! That said, consider adding an early dental checkup to this list of upcoming resolutions. Such a visit as the year begins has various perks to it. In fact, your Spring Hill dentist has the evidence to prove it. Here, then, is a summary of three major reasons to attend a dental checkup early in 2023.
Start the Year with Healthy Teeth
The holidays are winding down now, but their effects can linger. That fact especially applies to your teeth, as seasonal foods often have sugar that causes decay and cavities. Going without care could thus put your smile at serious risk.
Fortunately, an early dental checkup would protect your oral health. A dentist can treat your issues before they get severe by finding minor issues sooner, whether an infection or gingivitis. After all, you'd likely prefer a small filling now to a root canal in the future. It'd also be unpleasant to put up with an unhealthy smile.
Meet Your Deductible More Quickly
Anyone can benefit from dental insurance's cost-saving abilities. However, its coverage won't apply until you meet the deductible. Before that point, you'll have to pay full price for various dental services.
Given such facts, an early checkup is a great way to meet your deductible. Your plan renews on January 1st, so paying the price now will grant you coverage for the later months. That way, you'll have discounts ready for unexpected dental issues as 2023 progresses. You don't want your procedures to break the bank, right?
Ensure You Have Twice-Yearly Visits
As you might know, you should attend dental checkups at least every six months. Failing to meet that guideline often results in oral health declines. A patient, then, will end up paying for expensive and invasive treatments.
Luckily, early checkups increase your odds of meeting the twice-yearly rule. You see, booking a visit in January lets you easily schedule a summer follow-up. Assuming you have dental insurance, you'll thus get coverage for two preventive appointments.
As you can see, there are many incentives to get a checkup right as the year starts. Therefore, go book one while your Spring Hill dentist has availability!
About the Practice
Family Dental Associates is a premier dental practice in Spring Hill, Tennessee. Thanks to the latest technology and techniques, they offer excellent family dentistry to patients of all ages. Their treatments are thus comprehensive, spanning preventive, cosmetic, and restorative dental procedures. Even better, the staff works with patients' schedules to ensure convenient and high-quality results. For more information or to book an appointment, you can reach them at their website or by phone at (615)-802-4044.