Reveal Clear Aligners – Spring Hill, TN
Straightening Smiles Without Metal Braces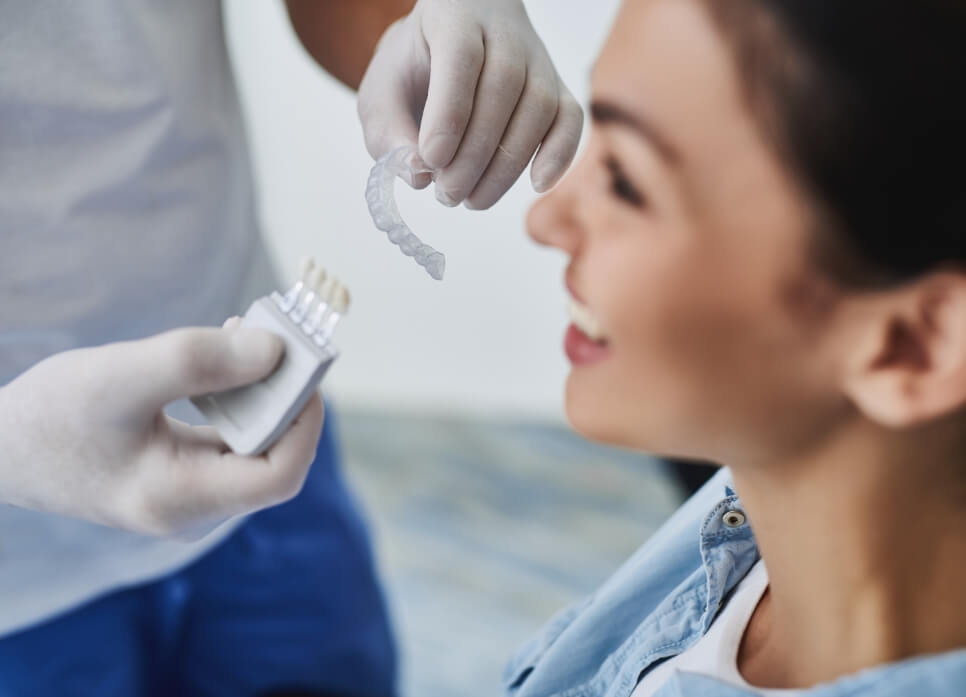 Having a straighter smile is about more than just looking great – though you will. Straight teeth are also healthier and function better. That means you're at a decreased risk for oral health concerns like excessive dental wear and TMJ dysfunction. Your straighter smile will look and feel great and function flawlessly. Unfortunately, many patients forego orthodontic treatments because they think that metal brackets and wire braces are their only options. Luckily for our dental patients, we have a better choice – Reveal clear aligners in Spring Hill. This clear alignment tray orthodontic system allows patients to straighten their smiles quickly and comfortably without the hassle of metal brackets and wires. If you want to learn more about Reveal, give our team a call to schedule an orthodontic consultation appointment at Family Dental Associates of Spring Hill.
Why Choose Family Dental Associates of Spring Hill for Reveal Clear Aligners?
Thorough Team That Always Takes Their Time
Office with Convenient Hours and Location
Experienced Dentist with US Army Background
How Reveal Clear Aligners Work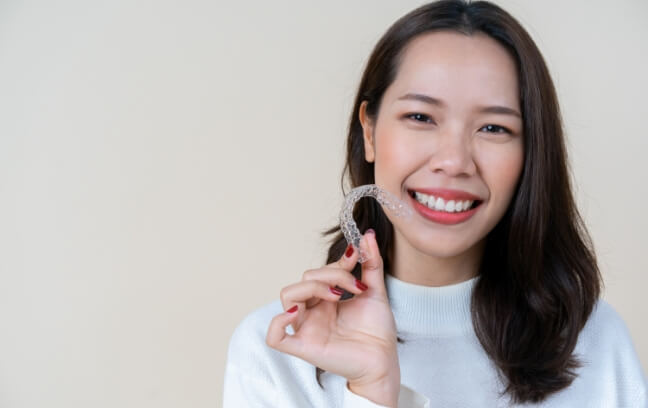 Using clear, plastic trays that are customized to fit your smile, Reveal clear aligners gently shift teeth in the right direction so that they will properly align and create a more cohesive and functional bite. Manufactured by Henry Schein Orthodontics in 2019, this unique system uses BPA-free materials that are made from ClearWear. One of the added benefits of Reveal is that they are less likely to become stained over time.
And what makes these aligners different from other clear orthodontic solutions is that they do not require attachments. With their scalloped edges, they will fit snugly against your teeth, allowing them to move freely without additional appliances along the way.
Indications for Reveal Clear Aligners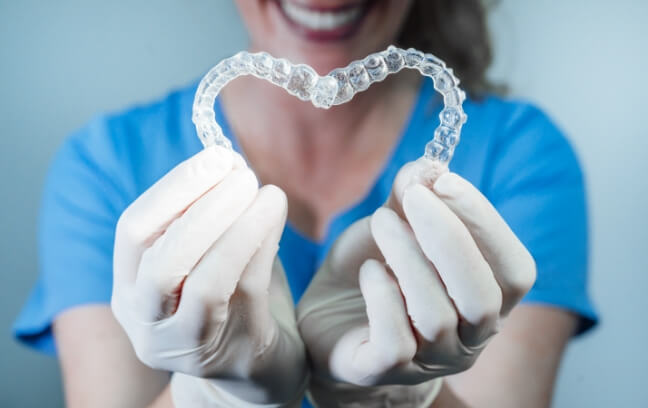 If you're looking for versatility, there is a good chance your dentist in Spring Hill will recommend Reveal clear aligners, especially if you have any of the following issues:
Crowded Teeth
Clear orthodontics in Spring Hill can create space between teeth. When pearly whites sit too close together, it becomes impossible to adequately clean teeth. Bacteria, harmful particles, and other debris can accumulate, resulting in cavities and gum disease. But with Reveal clear aligners, we can move teeth just enough to allow for proper spacing and better oral health.
Gaps Between Teeth
Unlike crowded teeth that don't allow for space, gaps between teeth make it too easy for bacteria and food particles to easily become stuck. Large gaps not only affect your self-esteem but can create problems when trying to eat, speak, or keep your teeth clean. With Reveal clear aligners, however, we can bring teeth closer together, eliminating space and creating a more beautiful appearance and healthier smile.
Bite Alignment
A misaligned bite can wreak havoc on your tooth enamel and jaw joints. When enamel wears down, it cannot grow back. When jaw pain develops, it's essential to seek professional help to avoid debilitating circumstances. Using Reveal clear aligners, we can help to reposition your bite so that your teeth and jaw joints work together cohesively to ensure optimal function.
The Benefits of Reveal Clear Aligners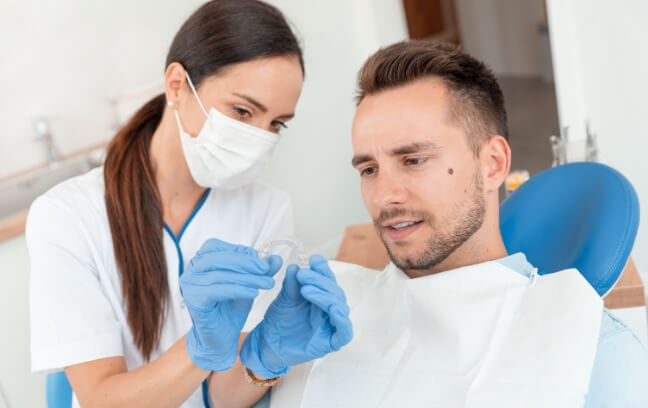 Unlike traditional metal braces that shine a spotlight on treatment and require years of wear, Reveal clear aligners provide an immense list of benefits, some of which include:
A more comfortable design (scalloped edges) that allows for easier wear
An easy-to-maintain solution
A more beautiful and confident appearance
Improved oral health
Resist to stains over time
Results that are quick and easy to achieve
Greater subtly as opposed to traditional metal braces
Understanding the Cost of Reveal Clear Aligners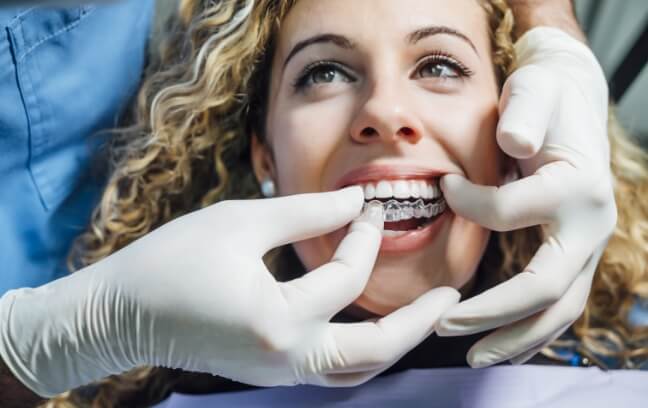 You must schedule an initial consultation with our team at Family Dental Associates of Spring Hill before receiving a cost estimate for your treatment. The amount you will pay for a straighter smile varies from person to person, and we cannot determine how much you can expect to pay until you allow us to examine your smile and determine if Reveal clear aligners are right for you. The good news is that our team will be happy to assist in maximizing your dental benefits as well as discussing alternative solutions to keep your expenses low.
Frequently Asked Questions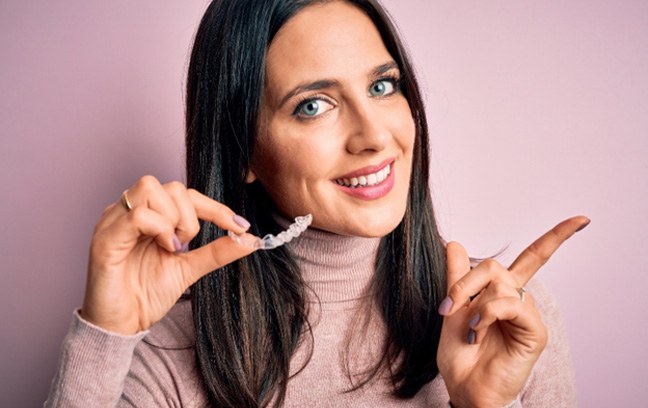 If you're currently wearing Reveal clear aligners or preparing to start treatment, there's a good chance that you still have many questions. Wondering whether they hurt, make life difficult, and what can be expected when finished with treatment are all normal; however, our team wants to make sure you have the answers to feel more confident and comfortable with your treatment. Below, you will find a list of frequently asked questions from our patients. If you don't see yours listed, make sure to call our office.
Does Wearing Reveal Clear Aligners Hurt?
If you've previously worn traditional metal-and-bracket wire braces, you may be worried that the same discomfort you felt then is something you'll be required to feel all over again with Reveal. The good news is that although there is likely to be some minor discomfort when you first start wearing your trays as well as when you swap them out for the next step in the series, the remainder of your time wearing Reveal will leave you comfortable and enjoying the treatment.
To remedy any pain you might feel, though, you can opt to take an over-the-counter pain reliever.
Are Reveal Clear Aligners Results Permanent?
As long as you remain committed to wearing your retainer following treatment, you should expect to see your teeth remain firmly in place. The problem with pearly whites is that without some sort of retention, they can easily shift back. As a result, this would cause you to lose all the hard work you put into achieving a straighter smile. The amount of time you'll be required to wear your retainer is up to our dentists, but you should be prepared to wear it accordingly for the remainder of your life.
What Should I Do If I Lose My Reveal Clear Aligners?
Before you ever receive your first set of aligners, you should plan to buy a protective case. You might even consider purchasing a few. These are beneficial when it's time to eat or drink and you need to remove them. By placing them in a protective case, you reduce the risk of potential damage and/or exposure to harmful particles. However, if an aligner does become damaged, you'll need to contact our office immediately. Your dentist will need to determine if you can move on to the next set in the series or have another aligner created.
Can I Be Treated with Reveal Clear Aligners If I've Worn Braces in the Past?
It depends on the current state of your oral health. If your teeth are only misaligned slightly, there's a good chance you'll be free to move forward with Reveal clear aligners. However, if you have a severe bite issue or more complex dental problems, it may be necessary for you to return to traditional braces to achieve the kind of results you desire.
Our team will do whatever we can to help you avoid regular braces, but it is ultimately up to our team of professionals and the current state of your oral health.