Dental Crowns – Spring Hill, TN
Making Injured Pearly Whites New Again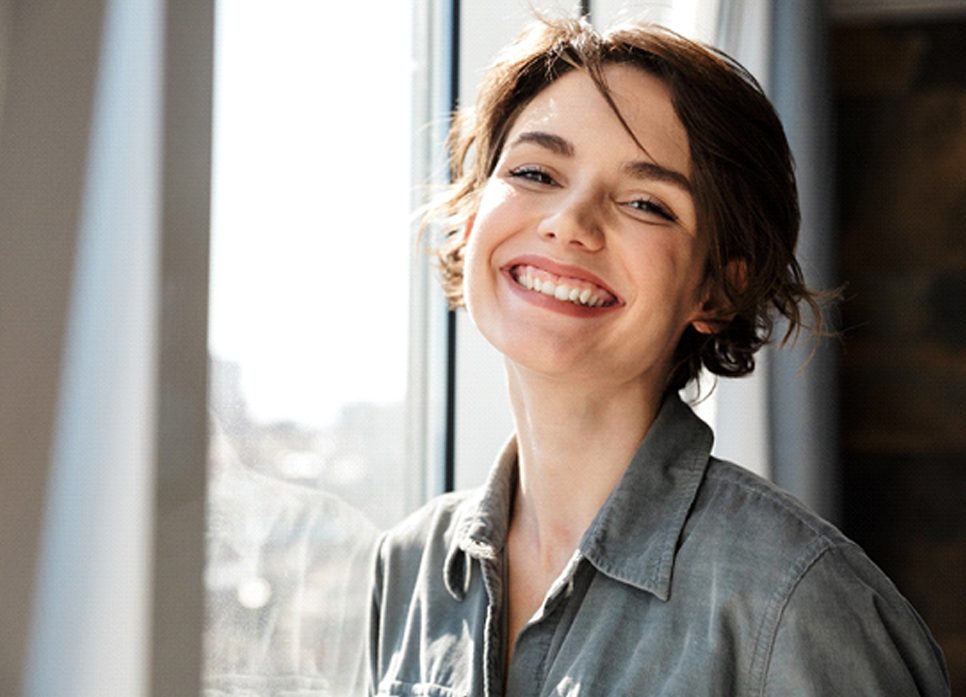 Having moderate to severely damaged teeth can not only lower your confidence in your smile, but it can also put you at risk of more health issues in the future. Fortunately, our team at Family Dental Associates of Spring Hill is proud to offer an effective and natural-looking solution with dental crowns. These restorations are custom-designed to restore both the appearance and function of injured teeth while preventing future decay or damage. Read along or reach out to us to learn more today!
Why Choose Family Dental Associates of Spring Hill for Dental Crowns?
Professional & Friendly Dental Team
Advanced & Durable Restoration Materials
Seamless & Long-Lasting Solutions
What Is a Dental Crown?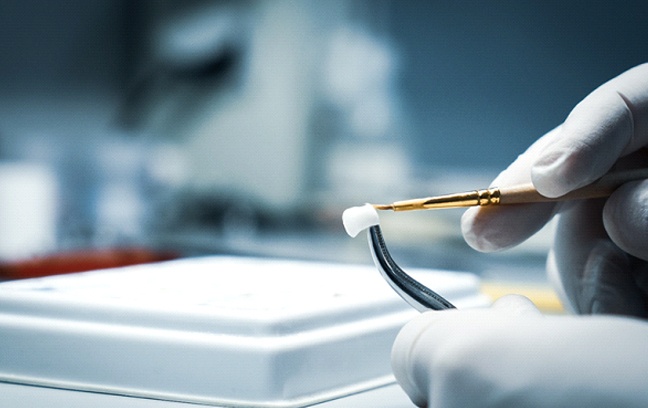 A dental crown is a tooth-shaped covering that is fitted over a damaged or decayed tooth to rebuild its look and function. This cap encapsulates the entirety of the visible portion of your tooth, providing strength and stability. Dental crowns can be made of several durable materials such as porcelain or zirconia, both of which mimic natural tooth enamel. By covering your injured tooth with this restoration, you'll be able to enjoy a more comfortable chewing ability as well as avoid further damage. Dental crowns serve various purposes, including:
Protecting teeth that were severely decayed or had large fillings.
Enhancing teeth that are misshapen or weakened.
Restoring cracked or broken teeth.
Safeguarding teeth that were repaired with root canal therapy.
Replacing lost teeth in combination with a dental implant.
The Dental Crown Process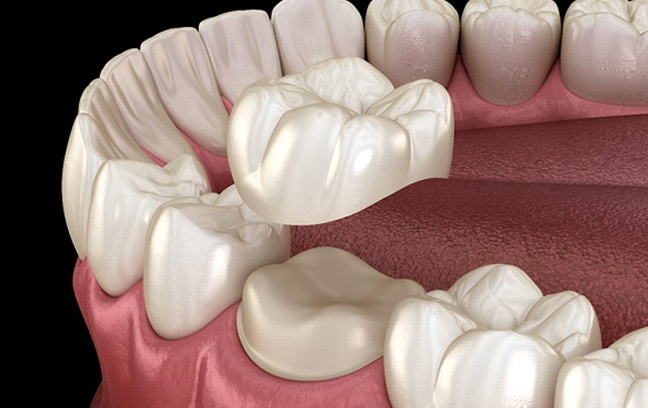 This restoration treatment usually takes a couple of visits to complete. Firstly, our team will need to prepare your affected tooth by taking off a small amount of your enamel to create space for your dental crown. We'll then create impressions that will be sent to a dental lab for fabrication. You'll need to wear a temporary one while you wait for your permanent restoration to be made, which can typically take two weeks. This will protect your weakened natural tooth in the meantime. Once your final custom-designed crown is finished, you'll come back into our office so that we can cement it and restore your smile!
The Benefits of Getting a Dental Crown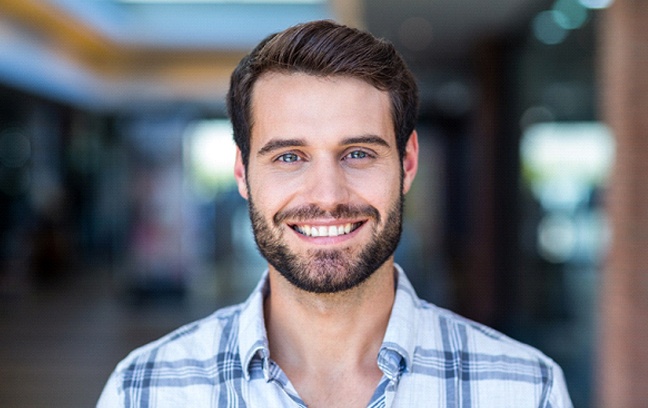 If you decide to repair your damaged or decayed teeth with dental crowns in Spring Hill, you can be sure to enjoy a flawlessly restored smile. Here are several advantages you'll be able to enjoy with this restoration option:
Lowered or eliminated sensitivity in your injured tooth.
Ability to comfortably eat, chew, and drink like normal.
Seamless solution that matches the rest of your pearly whites.
A durable and reliable restoration that can last 10 years or more with proper care.
Significantly reduced risk of other serious complications, like a dental infection or needing to get a damaged tooth extracted.
Dental Crowns FAQs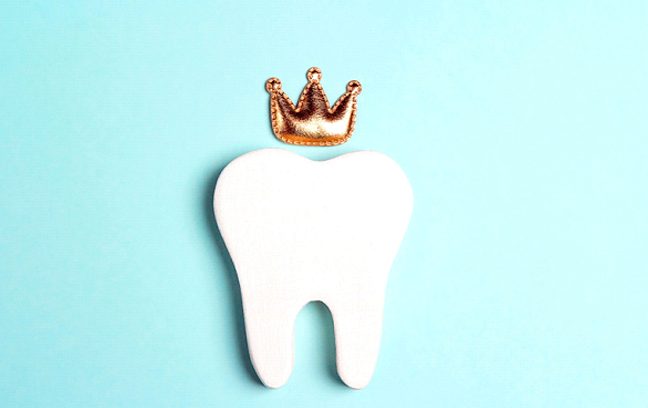 Do you need to restore a severely damaged or decayed tooth? If so, then a dental crown may be the ideal solution for your smile. These porcelain caps can strengthen the structure of your tooth and shield it from further damage in the future. While the benefits are worthwhile, it's normal to want to know as much as you can about the treatment before committing to it. Our team is happy to share and answer some of our most commonly asked questions about dental crowns in Spring Hill. This way you can make a well-informed decision when it comes to restoring your smile. Read on or give us a call today if you wish to learn more!
Do Dental Crowns Feel Natural?
Within several days of having your permanent crown placed in your mouth, your restoration should begin to feel increasingly natural. These dental caps are constructed out of durable porcelain or zirconia materials that can withstand the excessive pressure from everyday chewing like your tooth enamel. This means you'll be able to eat all your favorite meals as comfortably as before. Your treatment will involve reshaping your tooth and taking impressions, which will allow us to develop crowns that will fit precisely to match the rest of your smile. That said, your restoration shouldn't feel noticeable or awkward at all.
Are Dental Crowns Permanent?
Though dental crowns are a long-lasting solution for restoring compromised teeth, they aren't considered permanent. You'll be able to keep them for as long as 5 to 15 years with proper care before eventually needing to replace them. The only irreversible part of this treatment is the reshaping of your tooth to make room for your crown, as your enamel won't grow back on its own. For this reason, you'll always need to cover your exposed tooth with a crown moving forward. Fortunately, your restoration will protect your underlying tooth from future damage and help it survive much longer than it would have without one.
Does It Hurt to Get a Dental Crown?
Similar to getting a filling, our dental team will completely numb your mouth before beginning the process of renewing your tooth. You shouldn't feel any pain or discomfort throughout the procedure itself. However, you might experience soreness or sensitivity in the following few days after your appointment, especially if you also underwent root canal therapy. The good news is that these sensations should normally be short-lived and can easily be managed with over-the-counter pain medications. If any discomfort persists or worsens over time, be sure to give us a call for help!
Do Dental Crowns Get Cavities?
Since dental crowns are constructed out of non-organic materials, they can't develop cavities. Still, this doesn't mean your underlying tooth will be completely immune to bacteria or infection. In fact, a crowned tooth is just as susceptible to decay as an uncrowned one. Without proper oral hygiene, you could end up at risk of bacteria and plaque forming along your gumline where your tooth and restoration meet. These germs can then slip underneath your crown and eat away at your enamel. Simply by brushing, flossing, rinsing, and visiting us for routine checkups, you can effectively prevent cavities from forming in crowned teeth.