Dental Implants – Spring Hill, TN
Permanently Fill in the Gaps with Dental Implants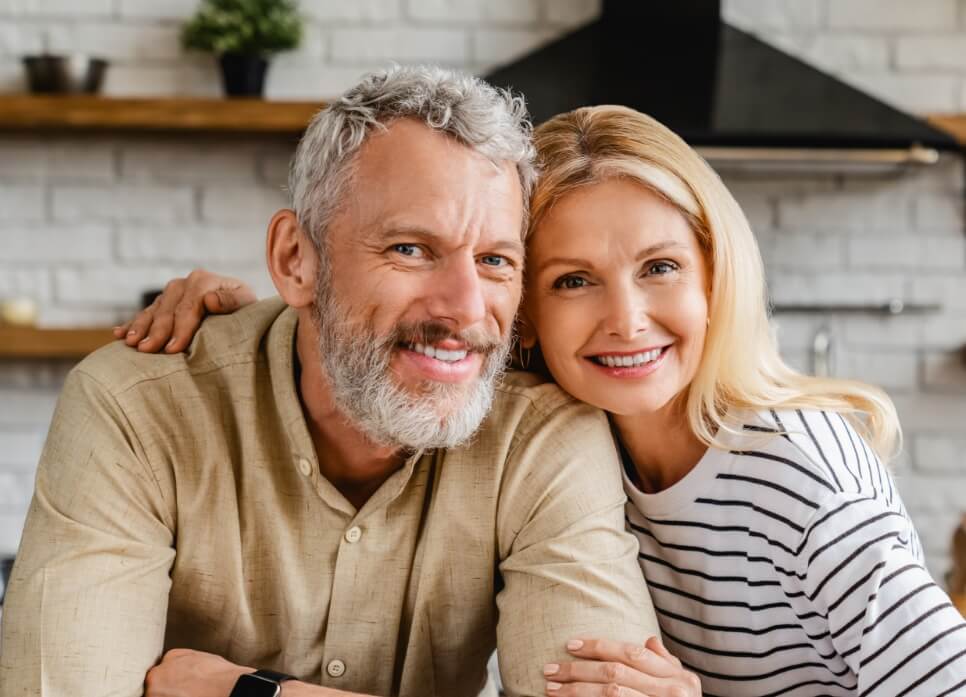 There are different levels to everything, and when it comes to tooth replacement, dental implants are simply at the top of the heap. Nothing else provides high-quality restorative, cosmetic, and long-lasting benefits like they can. And, we're proud to say that Family Dental Associates of Spring Hill is one of the only practices in the area that can perform the entire procedure in-house. This means you'll be able to get your smile faster, and we'll be able to ensure a fantastic result. If this sounds like the solution for you, be sure to contact our office today for a consultation. We're also happy to rebuild smiles for patients in Columbia and Williamson County.
Why Choose Family Dental Associates of Spring Hill for Dental Implants?
Dental Implants Placed and Restored In-House
Warm, Friendly Dental Environment
State-of-the-Art Office with Convenient Hours
What are Dental Implants?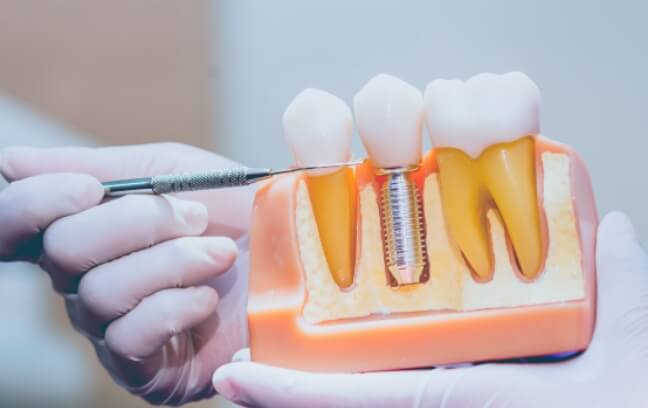 When we talk about dental implants, it's important to keep in mind that they are not one solid piece. Unlike natural teeth, which are made up of enamel containing pulp and dental tissue inside the crown and root, dental implants consist of three main components that work to replace teeth. This includes the titanium post that replaces the root, the restoration that attaches on top and sits next to neighboring teeth, and the abutment which connects them to create one seamless tooth replacement.
No other treatment option replaces teeth quite like dental implants do because of the way they integrate with your existing bone and soft tissue. The fusion that occurs between the implant and your jaw is what makes your replacement tooth feel so natural, whether you're eating, speaking, or smiling. Because of their longevity, functionality, and stellar appearance, dentists often recommend them over traditional tooth replacement methods.
The 4 Step Dental Implant Process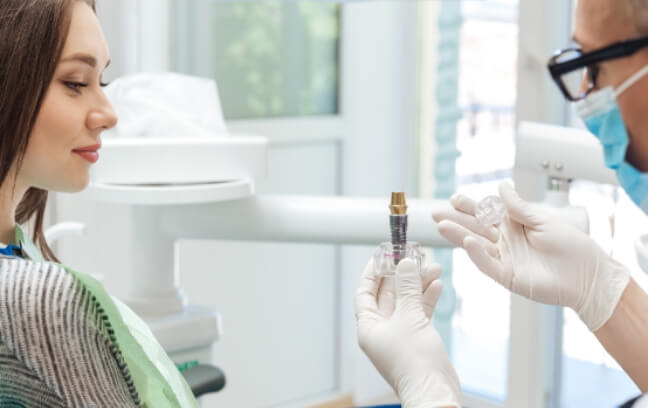 At Family Dental Associates of Spring Hill, we offer patients a wide range of dental care solutions to meet any need, schedule, or budget. When it comes to tooth replacement, we almost always encourage our patients to at least consider a dental implant tooth replacement plan. While the placement and restoration of a dental implant crown, bridge, or denture does take a little more time and a larger monetary investment, the results are longer lasting and more natural feeling and functioning than other tooth replacement options. If you're interested in learning more, feel free to read about the implant process below in more detail or call our Spring Hill dental office to schedule your tooth replacement consultation today.
Initial Dental Implant Consultation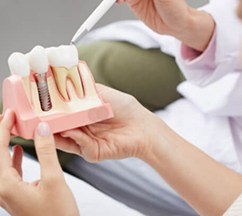 Before we get started with your implant-supported tooth replacement plan, we'll want to perform a complete evaluation of your current oral and overall health as well as your health history and any past surgical experiences. This includes a review of all medications to ensure no health condition or medication will adversely impact the success of your dental implant treatment plan. Then, we'll plan any necessary preparatory treatments that may include one or more of the following services:
Restorative services to improve oral health prior to treatment, including gum disease therapy
Bone grafts to increase the density of supportive alveolar bone structures
Soft tissue grafts may also be necessary to ensure the maximum chances for successful implant placement
Medication and health history review with you and/or your employer
Dental Implant Surgery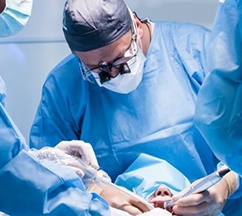 Once your smile is prepared, we will place your dental implant posts. This is a minor surgical procedure. We start by making an incision in the soft tissue. Then, the dental implant post is inserted into the supportive structure. A protective cap is placed to allow the surgical site to heal and let the implant fuse with the gum and jawbone tissues.
Dental Implant Osseointegration & Abutment Placement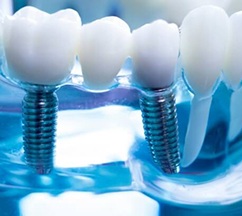 After the dental implants have fused with the gum line, we attach abutments. These pieces are used to affix the implant to the restorations. When the abutments are in place, we will design your dental crown, bridge, or denture that will be crafted by our dental lab technicians using the highest quality materials.
Delivery of Dental Implant Restorations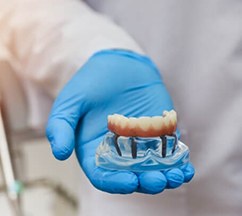 The final step of the process is the attachment of your custom-crafted dental crown, bridge, or denture. Once in place, these implant-supported restorations will look, feel, and function just like your healthy, beautiful smile. With such stunning results, you'll proudly be showing off your pearly whites in no time!
Benefits of Dental Implants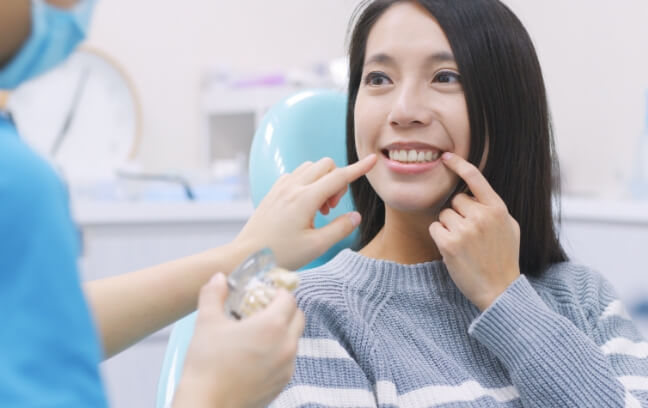 Whether you've lost just one tooth or an entire mouthful, you have more options than ever before for restoring your smile. Instead of traditional prosthetics, more patients are turning to dental implants after tooth loss. Often considered the gold standard for replacing missing teeth, implants are the only solution to replicate the whole structure of a lost tooth, from the root up. This allows them to provide many advantages over other treatments. Here are just a few of the many benefits of dental implants in Spring Hill.
Day-to-Day Benefits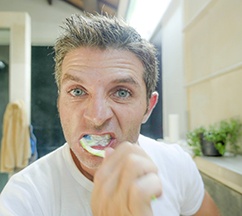 You use your teeth every single day for eating, speaking, and smiling. Here are some of the benefits that you can experience all the time with dental implants:
Versatile: Dental implants can be used to replace any number of missing teeth, and they can be used to support numerous types of restorations. No matter what your tooth loss story is, dental implants can likely help!
Efficient: An entire arch of missing teeth can be placed with anywhere from four to six dental implants. A bridge or partial denture can be supported with just two implants.
Maintenance: It's as easy to care for dental implants as it is for natural teeth. Great oral hygiene and regular dental checkups help to keep your restored smile in excellent shape.
Confidence: No one wants to deal with tooth replacements that shift around or slip out of place. Dental implants remain anchored in the jawbone, allowing for a sturdy smile.
Health Benefits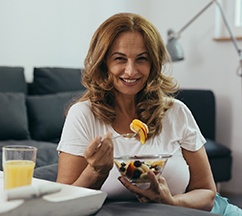 In addition to improving your appearance, dental implants have a variety of health benefits. Here are some of the most prominent:
Nutrition: With additional stability, it's much easier to thoroughly chew the nutritious foods that you need to thrive.
Strong Jawbone: Dental Implants act like tooth roots, so they stimulate the jawbone when you chew. This helps to prevent jawbone deterioration from occurring over time.
Oral Health: By replacing missing teeth with dental implants, you can prevent your other teeth from shifting around and causing issues.
Long-Term Benefits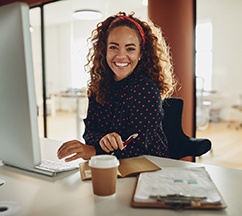 The benefits you feel right away are great, but they don't stop there. Here are some of the advantages that you can experience many years down the road:
Successful: Dental implants have an impressive success rate of over 95%.
Youthful Appearance: Replacing missing teeth with dental implants can take many years off your appearance.
Long-Lasting: With proper maintenance, dental implants can last upwards of three decades.
Who Dental Implants Can Help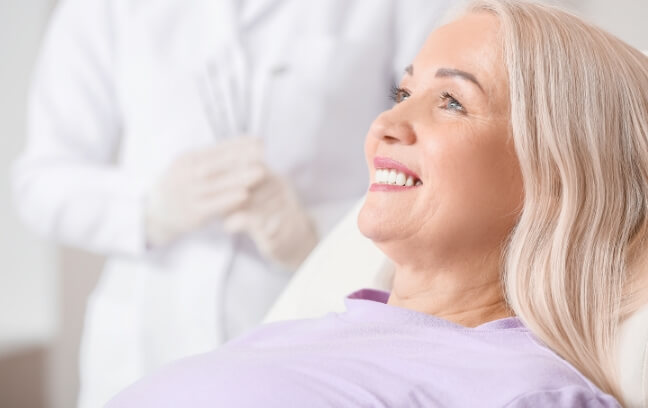 Dental implants can be a fantastic solution for those with varying degrees of tooth loss. Whether you have a single missing tooth, or you've lost multiple teeth over the years, dental implants are one of the most effective treatment options available. Below, you can learn more about how our office gets the job done and makes your smile complete!
Missing Single Tooth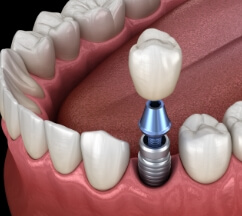 If you are missing a single tooth, it can be replaced using an all-porcelain implant-retained crown. Dental porcelain is just as strong and durable as metal, but it can also perfectly mimic a tooth's shape, size, color, and even feel. The only person who will know that it isn't a real tooth will be you! To place it, we will connect it to the implant post using a small screw called an abutment.
Missing Multiple Teeth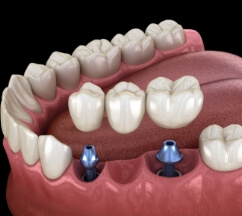 For a row of missing teeth, an implant-retained crown can be attached to prosthetic teeth to form a bridge. Implant-retained bridges, when compared to traditional ones, are more stable, last longer, and don't require healthy teeth to be filed down to hold supporting crowns. This means we'll be able to complete your smile while preserving more of your remaining teeth.
For numerous consecutive and nonconsecutive teeth, we may recommend an implant-supported partial denture. These prosthetics use a gum-colored base material to support any number of replacement teeth. The denture base is molded to fit between healthy teeth, and we place between two and four implant posts to provide support for the entire partial denture.
Missing All of Your Teeth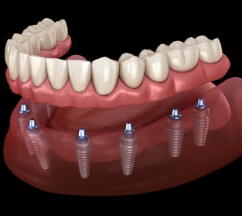 Dental implants can also be used to support a full or partial denture. These dentures look just as natural as traditional ones, but they come with a multitude of benefits compared with traditional dentures:
Implant dentures will never slip, pop, or click unexpectedly.
They support your jaw from below, and this will help them maintain their fit much better over time.
They allow for a much stronger bite force, meaning you'll be able to enjoy a wider variety of foods easily.
Understanding the Cost of Dental Implants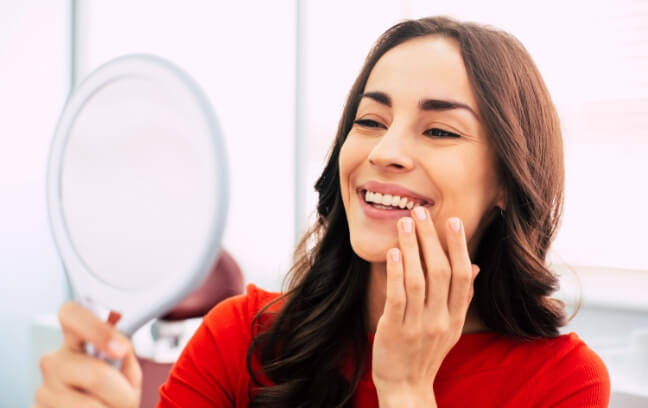 Your tooth replacement plan will be completely personalized to meet your needs, and this means it's impossible to provide an exact estimate of the costs of treatment without reviewing your unique case. During your complimentary dental implant tooth replacement consultation, we will walk you through the costs of every step of the tooth replacement process. Our team members will help you to prepare for the out-of-pocket treatment cost, process insurance claims, and assist you in applying for low and no-interest financing.
Preliminary Treatments & Dental Implant Surgery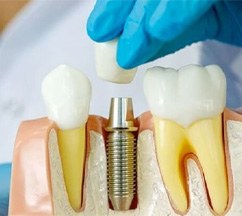 The long-term success of dental implants is largely due to the multi-phased treatment process. Although it can take several months to complete your smile, it is necessary to ensure your new smile lasts. Each step of your treatment has different costs. Your dentist in Spring Hill explains the cost of each phase during your initial consultation, including:
Initial Consultation: You need an initial consultation that includes digital X-rays and a CT scan to ensure dental implants are right for you.
Additional Treatments: It is common to need additional treatments to create the right foundation for your dental implants, like tooth extractions or bone grafting.
Placement Surgery: Sedation or anesthesia is used during oral surgery to place your implant posts into your jawbone.
Abutments & Restorations: After your jawbone fuses to the posts, abutments are connected to them. The special fixtures allow your restorations to be attached to the posts.
The Parts & Type of Your Dental Implant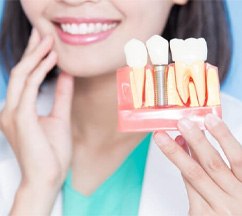 There is no set amount you can expect to pay for dental implants because the amount is determined by your individual treatment plan. One factor that influences the cost is the type of dental implant needed, such as a traditional or mini-post. Besides the posts, the type of restoration you need also impacts the cost, such as if you need an implant crown, bridge, or denture. Generally, the more teeth you replace, the more it will cost.
How Dental Implants Pay for Themselves Long-Term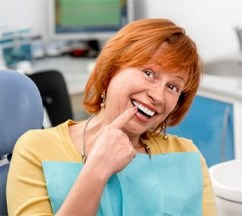 Dental implants can cost more than traditional options upfront, but they are the more affordable choice long-term because they never need to be replaced. They can last for several decades with the right aftercare. Not to mention, they improve your oral health to reduce your risk of tooth decay, gum disease, and additional tooth loss. This lowers your overall dental expenses.
Does My Dental Insurance Cover Dental Implants?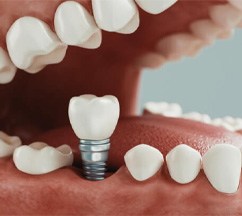 Now, many insurance companies help pay for dental implants. Although they do not cover the entire treatment, they may lower the cost of certain aspects, like your CT scan or restorations. We work on your behalf with the insurance company to maximize the value of your policy. We also help reduce the amount you need to pay out-of-pocket to keep your new smile affordable.
Making Dental Implants Affordable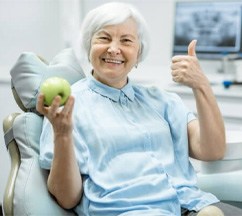 If you do not currently have dental insurance to cover the cost of dental implants, there are other ways you can make your treatment more affordable. For example, we accept a variety of payment options to cover any remaining balance, like third-party financing with CareCredit. This option allows you to cover payments for dental implants over the span of several months or years, depending on which plan you choose. These payments often come with little-to-no interest attached, making it possible to fit dental implants into almost any budget!
Dental Implant FAQs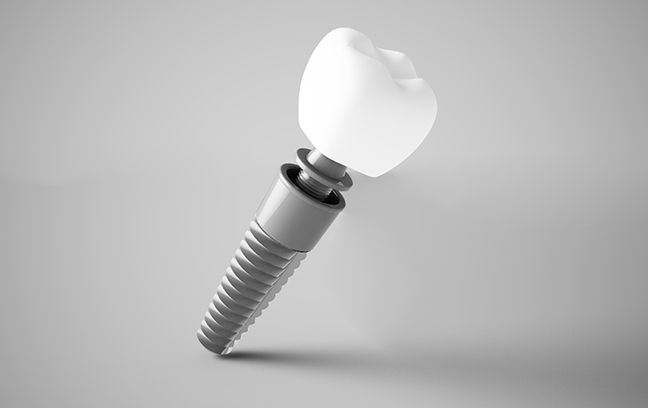 Dental implants are one of the most often recommended methods of tooth replacements among dentists, but if you're not a dentist, you'd be forgiven for not knowing very much about the treatment. Considering that it's one of the only ways of replacing a tooth that involves surgery, you may want to know a little more before diving in.
With that in mind, here are answers to some of the most common questions we get about dental implants.
How Long Do Dental Implants Last?
One of the major benefits of dental implants is that they outlast other tooth replacement options by a considerable amount. It's common for them to last for over 30 years if you maintain them well.
Of course, a lot of that depends on you. Dental implants need to be taken care of to prevent infection, so you should be sure to brush and floss thoroughly each day. It's also a good idea to see us at least twice a year so we can check on the quality of your implant.
Can I Take Dental Implants Out?
Dental implants are designed to be fixed in the bone tissue, meaning that you can't expect to take them out. In some ways this is an advantage to dental implants—they can be cleaned just like the rest of your teeth, and you'll never have to worry about losing them.
However, it's worth noting that some implant dentures are designed to be taken out for cleaning, which may make them a good option if you need to replace a lot of teeth and like the removability.
What Can Cause Dental Implants to Fail?
There are two main things that can cause your dental implants to fail. The first occurs just after the initial surgery if the titanium isn't able to fuse with the jaw well. This may happen if you have an impaired healing capacity, if you have low jawbone density, or if the implant is disturbed during healing.
The second is infection. Severe gum disease is capable of attacking the jawbone, eroding the support structures for the implant. In severe cases, your dental implants may even fall out completely.
If you want to avoid these problems, you should a) listen carefully to all aftercare instructions, and b) take good care of your oral health.
How Long Does It Take to Recover from Dental Implant Surgery?
In the grand scheme of things, dental implant surgery isn't all that intense. Aftercare should be mild—you should be able to go back to normal as soon as the day after surgery. Any bleeding and swelling should go down after a few days. However, it is recommended that you avoid strenuous activity, as this can slow down healing.
Be sure to take any prescribed or over-the-counter pain medicine as directed to keep yourself comfortable while your dental implant heals.
Patient Stories: Jim | Family Dental Associates of Spring Hill