Cosmetic Dentistry – Spring Hill, TN
Cosmetic Dentistry in Spring Hill Creates Dream Smiles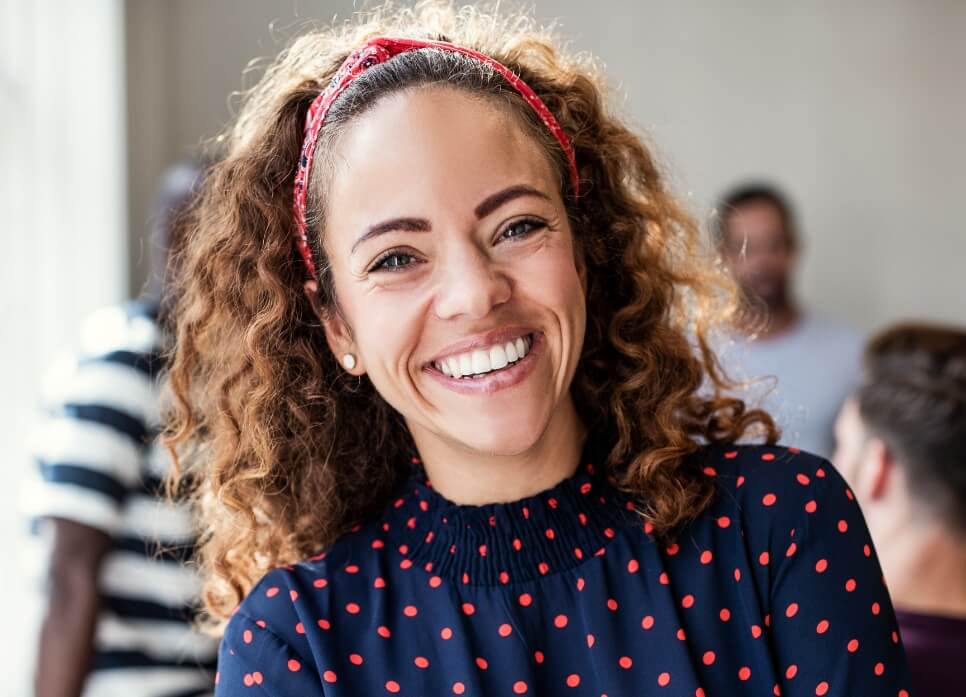 No one likes hiding his or her smile. Covering your teeth with your hand or lips can make you feel awkward and self-conscious. Cosmetic dentistry to the rescue! With cosmetic dentistry, we can magically transform stained, chipped, broken, or misaligned teeth into a smile you won't hesitate to share.
Modern cosmetic procedures like teeth whitening and porcelain veneers are faster and higher quality than ever before. With restorations like all-ceramic crowns, nobody will know you've had dental enhancements. At Family Dental Associates of Spring Hill, we excel in cosmetic dentistry. One of the most rewarding aspects of our careers is watching what happens to a person's self-confidence after a smile makeover. We take special care to ensure each patient's cosmetic dental plan is customized to fit his or her unique needs. Our motto, "personalized and comfortable", is especially crucial when it comes to cosmetic dentistry. If you're ready to get the most beautiful smile of your life, simply contact our office today. We can also beautify smiles from Columbia and Williamson County.
Why Choose Family Dental Associates of Spring Hill for Cosmetic Dentistry?
Highly Reliable Take-Home Whitening
Long-Lasting Porcelain and Zirconia Crowns
Thorough Team That Takes Their Time with You
Veneers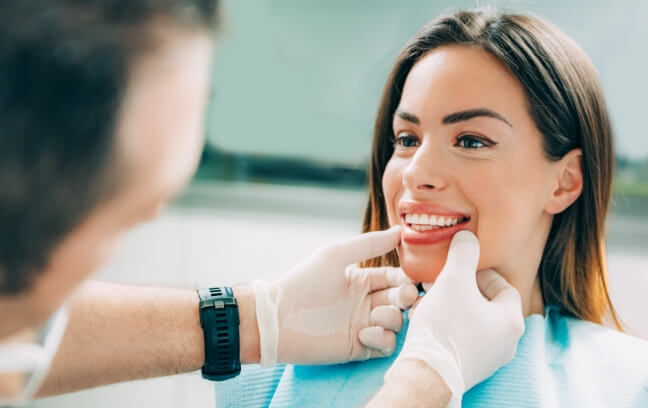 Porcelain veneers are one of the most comprehensive cosmetic treatments available today. They can fix and mask a multitude of imperfections such as chips, cracks, stains, and gaps. They can even be used to make slightly crooked teeth appear straighter, which is why they are often referred to as "instant orthodontics." What are they? How do they work? What is the procedure like to get them? Simply click the link below to learn more.
Learn More About Porcelain Veneers
Metal-Free Crowns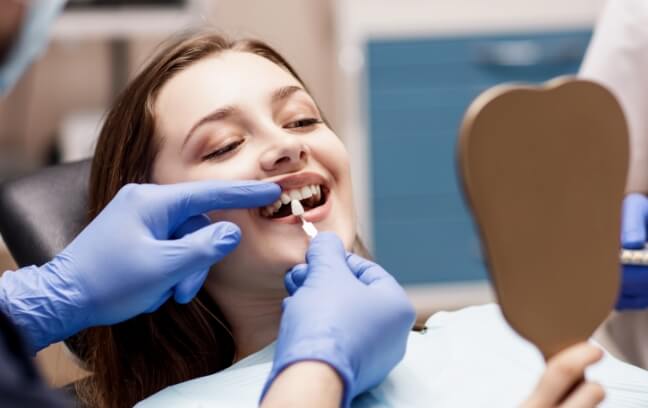 It used to be that getting a crown meant living with a dark grey spot on your teeth for the rest of your life. Nowadays, though, metal isn't the only thing that can be used to make crowns. Our office uses zirconia and porcelain crowns instead, which are extremely similar to natural enamel in appearance, even in the way that they reflect light. These crowns can be personalized so that they're indistinguishable from your other teeth; many people won't even realize you have a restoration.
Cosmetic Bonding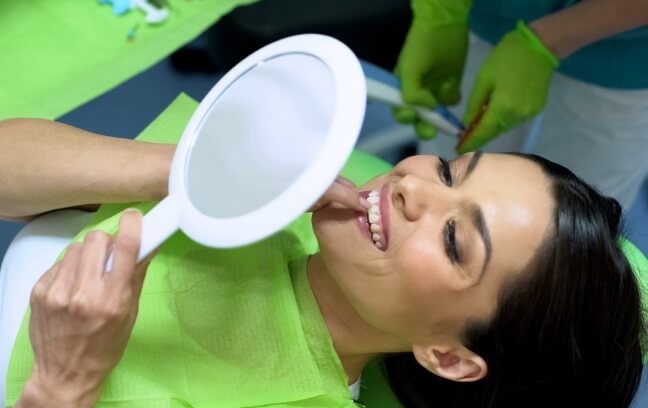 Like veneers, cosmetic bonding is a very versatile treatment that can be used to hide cracks, gaps, stains, and various other flaws. However, it can be done in much less time at a much lower cost, which makes it the better choice for smaller corrections. The process involves the same composite resin we use to place fillings. By applying it to the teeth, we can use it to cover up imperfections and create a smile that you can be more confident in.
Teeth Whitening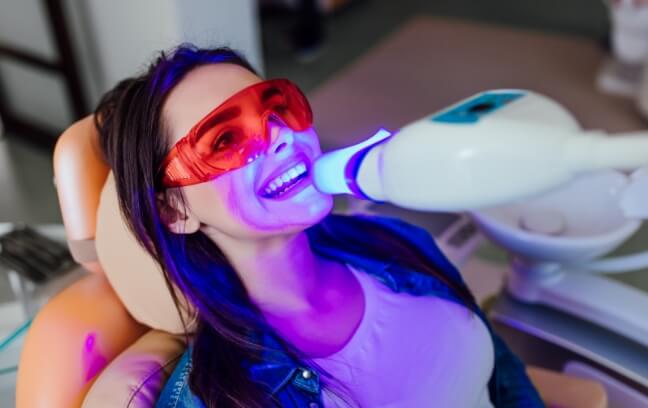 Take-home teeth whitening is one of the most popular procedures we offer. Our professional whitening solution is much more potent than what you can buy over the counter, and it comes with custom trays fitted to your teeth. Dr. Allen and Dr. Jewell will start by examining your teeth to ensure whitening is safe for you, and then you can carry out the whitening program in the comfort of your own home.
We recommend wearing the whitening trays daily for up to two weeks. A noticeable difference will likely be visible right away but continue with teeth whitening for the best result. Re-use the trays and any leftover whitening solution in the future to remove stains caused by dark-colored foods and beverages.
Learn More About Teeth Whitening
Gum Recontouring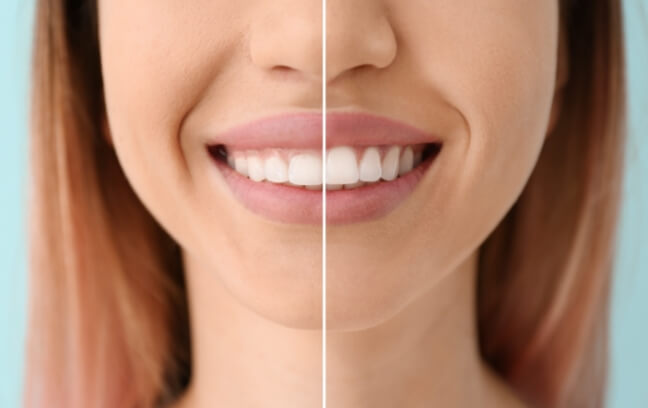 A perfect smile is also a balanced one, and that means it has just the right proportion of lips, teeth, and gums. Sometimes, excess gum tissue can get in the way and make otherwise beautiful teeth appear short and stubby. To correct this, we can perform gum recontouring/crown lengthening. For this procedure, our doctors will gently and precisely remove any excess gum tissue to expose more of your natural teeth. Before you know it, you'll just love the person you see in the mirror every day.
Cosmetic Dentistry FAQ's
When it comes to creating the smile of your dreams, we're proud to offer a wide array of cosmetic dentistry services in Spring Hill. However, you likely have some questions that need answering before you feel ready to commit to a treatment plan! That's why we've gathered a few of the most common questions we get about our cosmetic treatments below. If you'd like to learn even more or if you want to schedule your consultation, don't hesitate to give us a call!
I Want to Improve My Smile — Where Do I Start?
Many of our cosmetic services are versatile, which means you have a variety of options to choose from when deciding how you want to improve your smile. That's why your first step should be to come to visit us for a consultation! Your Spring Hill cosmetic dentists Dr. Allen and Dr. Jewell will take the time to understand your goals for your smile and address any of your concerns. Then, after closely inspecting your teeth and gums, they'll be able to help you choose which treatment(s) will achieve your desired results most effectively.
Am I A Good Candidate for Cosmetic Dentistry?
With the help of state-of-the-art technology and high-quality materials, practically anyone can be a good candidate for cosmetic dentistry! There is no upper age limit for improving your smile and we can even make treatment plans for children with all their permanent teeth (in most cases). However, it's important that your smile is healthy beforehand. Issues like tooth decay, gum disease, and teeth grinding can make some services uncomfortable or less effective, so we'll need to treat those first. Then, once your smile is healthy, we can start working on its appearance!
How Long Will It Take to Improve My Smile?
Just as no two smiles are alike, no two cosmetic treatment plans are exactly the same. Each one is tailored to meet the unique needs of the patients, so timelines vary widely. How long it takes to achieve the results you're looking for will depend on factors like the extent of the issue you're looking to fix and if any preliminary treatments are needed. In addition, different treatments take different amounts of time. For example, gum recontouring can typically be completed in a single appointment, while take-home whitening kits and porcelain veneers will require a few weeks.
Do I Need Braces If I Have Crooked Teeth?
A mouth full of metal wires and brackets isn't your only option for getting a straighter smile anymore. In fact, if your teeth are only minimally misaligned, you may not need orthodontic treatment at all! Porcelain veneers are an excellent way to address slightly crooked teeth and small gaps between teeth. If your orthodontic issues are more pronounced, we may recommend ClearCorrect. These clear plastic aligners can help straighten your teeth without distracting you from your appearance.