Implant Dentures – Spring Hill, TN
Replacing Multiple Teeth from the Roots Up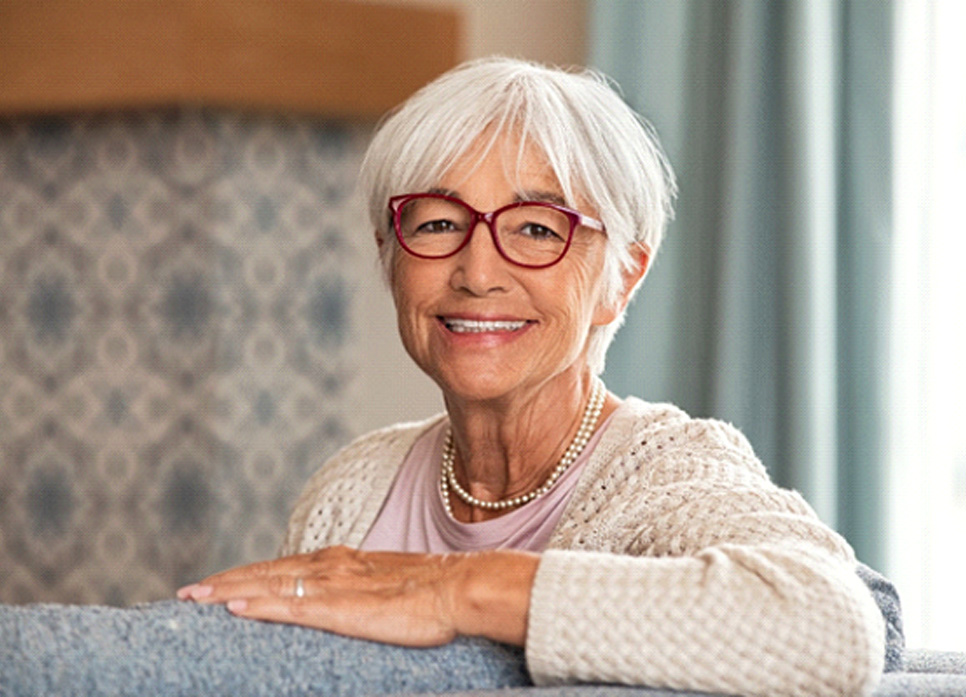 Traditional dentures can help you replace multiple teeth at once, but they can sometimes slip at inopportune moments, and they often make it difficult to chew certain foods. If you want your new smile to have strength and stability on par with your natural teeth, you may want to consider implant dentures. With this state-of-the-art solution, Dr. Allen and Dr. Jewell can replace all of your teeth from the roots up. To learn more, contact our office today.
Why Choose Family Dental Associates of Spring Hill for Dental Implants?
Entire Implant Procedure Performed In-House
Friendly, Experienced Dental Experts
Comfortable, State-of-the-Art Office
What Are Implant Dentures?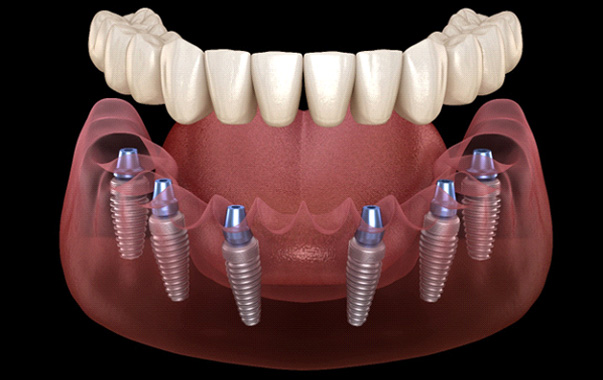 Instead of being held in place with adhesive or natural suction, implant dentures are anchored to your mouth via a number of screw-shaped implant posts inserted into the jawbone. These posts act as new tooth roots, providing stimulation to the surrounding bone while also making sure that your new teeth stay in place. Implant dentures can be fixed or removable based on your needs:
Fixed/Permanent Implant Dentures
A fixed denture is permanently attached to the implant posts and is only removed by your dentist. You can brush and floss a fixed implant denture the same way you would your natural teeth. Since fixed dentures usually require more implant posts, they're typically recommended for patients who still have high bone density in their jaws.
Removable Implant Dentures
You can take a removable implant denture out of your mouth at any time, allowing you to clean it thoroughly. Fewer implant posts are needed for this type of denture, so it may be a good choice for patients who have already experienced bone loss.
The Implant Denture Process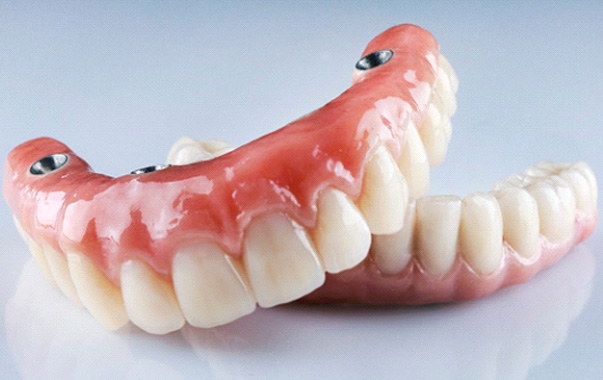 At your initial consultation, our team will carefully examine your mouth and determine whether you're a candidate for implant surgery. Some patients might need bone grafts, periodontal therapy, or other types of preliminary work before getting implants.
The actual implant surgery will be performed at our office. We'll open your gum tissue to surgically place the implant posts in your jaw. It will take about three to six months for the implant posts to fuse with the jawbone via a process called osseointegration.
After osseointegration is complete, the last step is to take an impression of your mouth to design the final denture. Once it's ready, we'll attach it to the implant posts and put the finishing touches on your new smile.
Am I a Candidate for Implant Dentures?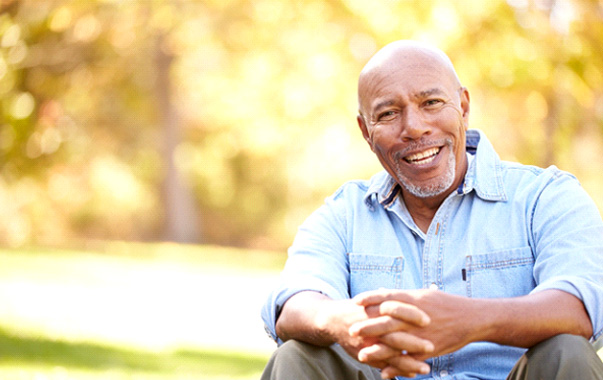 You are most likely a candidate for implant dentures if:
Your jawbone is currently strong enough to support the implant posts (or will be after bone grafting).
You have a mouth that's free of gum disease and tooth decay.
You don't have any health issues that would prevent you from having surgery done.
You are able and willing to maintain excellent oral hygiene to protect your dental implants over the long term.
That said, the only way to know for sure if implants are right for you is to speak with your dentist.
Benefits of Combining Dentures & Dental Implants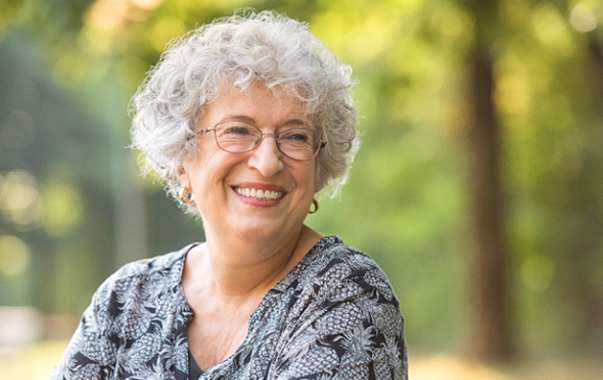 Dentures supported by implants have the following advantages:
They look and feel like natural teeth.
They make it easier to speak clearly.
They allow you to eat whatever you want.
They can last for the rest of your life with the right maintenance.
They can actively prevent bone loss in your jaw.