Smile Again Thanks to Dentures & Partial in Spring Hill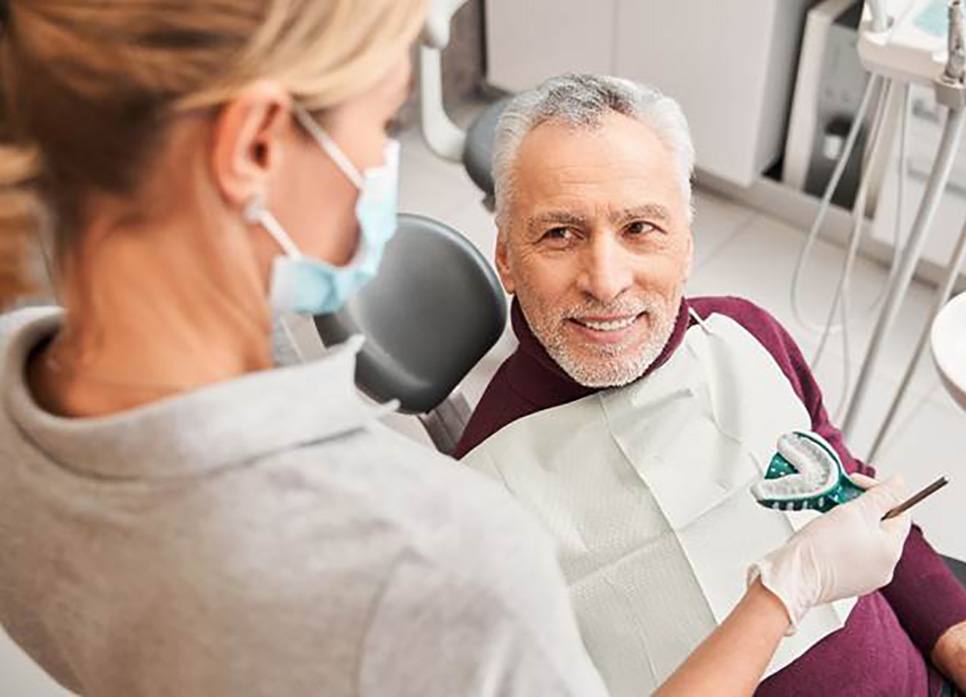 When you think of dentures, what comes to mind? If you picture chattering teeth or bulky, disfigured appliances, then you're in for a surprise. At Family Dental Associates, we custom design dentures that look and feel completely natural. These modern solutions to missing teeth will restore your ability to eat, chew, and speak with complete confidence. The procedures can give you a flawless smile that's even better than the original! If you're ready to enjoy a full set of teeth again, simply contact our office today to schedule your tooth replacement consultation. Before you know it, you can have a smile you'll be proud to show the world again. Dr. Allyson Kelly loves creating dentures, and she spends a lot of time with her patients taking measurements and listening to their goals in order to achieve the perfect fit and a natural appearance they deserve.
Partial Dentures
A partial denture replaces several missing teeth, no matter where they are in your smile. In order to restore the smile, a gum colored base material is crafted to fill in the gaps between teeth. Replacement teeth are affixed to this base, and the entire prosthetic is held snuggly in place using clasps attached to surrounding teeth.
Full Dentures
Full dentures replace all of the upper or lower teeth. They are crafted like partials using a gum colored base material to support a full row of teeth. Unlike partial dentures that can be anchored to surrounding teeth for support, full dentures need to be formed to fit against the gum line. When properly fitted, the denture creates suction between the base and gum tissue, holding the whole prosthetic in position. Some patients choose to use a small amount of denture adhesive to improve the stability. For others, an implant supported denture may be a better option.
Implant Dentures
Even with the best fitting dentures, gum ridges and the underlying bone tissue change over time due to the pressure, and dentures can lose their tight fit. A solution to both bone loss and poorly fitting dentures, dental implants can anchor dentures into the jawbone, recreating the natural structure and function. After your consultation exam, we can discuss whether or not these options will work to stabilize your denture and eliminate the need for clasps or adhesive pastes.
Hybrid Dentures & Overdentures
Hybrid dentures and overdentures offer patients a combination of the benefits of both removable and implant fixed dentures. They are removable dentures that are snapped into place over implants, and you can take them in and out at home. For some patients, this is a better option as it allows them to more easily clean their denture and remove food, plaque, and tartar buildup that can accumulate between the denture and gums, leading to implant failure.
Caring for Your Dentures
Regardless of which type of denture you pick, you'll need to care for it properly. If you have a traditional removable partial or full denture or a hybrid overdenture, you will need to remove your prosthetic during sleep. When you take the denture out, you should carefully brush it using a soft bristled toothbrush or special denture brush. Always use cool water when cleaning your denture as warm water may warp the malleable base material. Once your denture is clean, you should store it overnight in cool water or denture cleaner. Then, you should use antimicrobial mouth rinse and/or a water flosser to remove bacteria and plaque that can accumulate on the gums under your denture. If you have healthy remaining teeth, you should continue brushing and flossing them as usual. For patients with fixed implant dentures, you can brush these replacement prosthetics just like you would healthy, natural teeth. You may still want to use a water flosser and antimicrobial mouth rinse to reduce the number of bacteria and plaque that can accumulate between the denture and gums. You will need to visit our office for checkups at least every six months. During these visits, we can assess your denture fit and help you maintain adequate function.