Dental Crowns & Bridges in Spring Hill
Damaged or missing teeth can significantly impact the look, feel, and function of your smile. At Family Dental Associates at Campbell Station, we do our best to help patients avoid oral health concerns with a focus on preventive dental care. If you do experience dental damage or tooth decay, please call our Spring Hill dental office right away. Left untreated, almost any dental health concern will gradually worsen, so the sooner we get to work repairing dental damage –the better. For a moderately damaged tooth, we offer dental crowns, and when a tooth needs to be removed, a fixed bridge restoration can restore the full function of your smile.
Dental Crowns
Crowns are dental restorations that fit completely over the top of a tooth to create flawless form and function. We can craft dental crowns from a variety of materials depending on your unique needs and treatment goals. Crowns are made from gold, porcelain fused to metal, and all ceramic.
Indications for Dental Crowns
We'll recommend dental crowns in a number of situations, including:
To repair your smile following dental damage, tooth decay, or the loss of a large filling
To correct or conceal cosmetic dental flaws
To protect and fortify teeth following root canal therapy
To replace missing teeth when attached to a dental implant or used to support a fixed bridge restoration
Fixed Bridges
A fixed bridge is a tooth replacement prosthetic that supports one or more replacement teeth with dental crowns attached to surrounding healthy teeth. The replacement tooth, called a pontic, is fused to two dental crowns. Then, the entire prosthetic is cemented into place attached to teeth on either side of the empty socket.
The Restoration Process
Repairing your smile with a dental crown or bridge takes just two appointments. At your first visit, we'll examine your smile and prepare your tooth or teeth. We remove any damaged tissues, but we'll also need to remove a small amount of enamel around the tooth to allow the crown to fit within your smile. Once the tooth or teeth are prepared, we capture bite impressions that reflect your prepared tooth that our dental lab uses to craft your crown or bridge. To protect your smile between appointments, we place a temporary dental crown or bridge. When we receive your final restoration, you'll return to our office for the second appointment. At this shorter visit, we'll simply remove your temporary and cement your custom crown or bridge into place, recreating your flawless, healthy smile.
Caring for Your Smile
After your smile has been repaired using a dental crown or fixed bridge, you'll still need to brush twice a day and floss daily as well as visiting us twice a year for dental checkups and teeth cleanings. While your crown or bridge isn't susceptible to tooth decay, the surrounding teeth are, so you still need to remove stuck on foods and plaque to maintain optimal oral health. To avoid wearing away your dental restoration materials, we'll recommend using minimally abrasive oral hygiene products. During your dental exams, we can review your products and help you make the most of your daily hygiene routine to keep your smile healthy and functional for years to come.
Dental Crowns and Bridges FAQs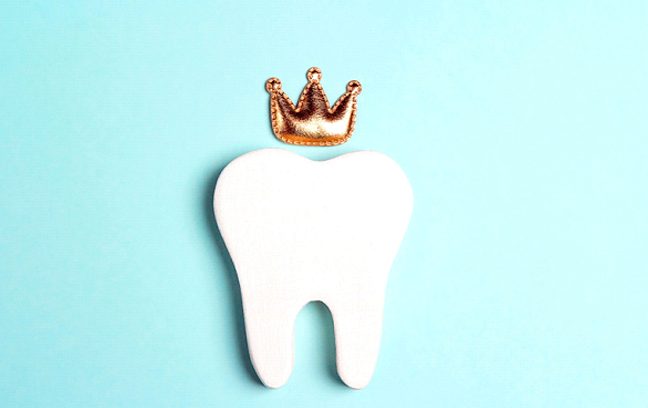 Restorative treatments like bridges and dental crowns in Spring Hill can be a great way to improve not just the appearance of your smile, but also your oral health in general. However, it's always best to learn all that you can about a dental treatment before going through with it. For that reason, we've decided to answer some of the questions we get asked the most frequently about dental crowns and bridges down below.
Will People Be Able to Tell That I Have a Crown or Bridge?
In many cases, crowns, and sometimes bridges, will be made of a metal like gold if they are being used to restore or replace molars (back teeth) since those teeth bear the brunt of chewing forces and require a more durable restoration. For teeth toward the front of the mouth, though, we typically will use dental porcelain to craft your crown or bridge. Porcelain is known for its remarkable ability to mimic natural tooth enamel, even in the way it reflects light. Onlookers shouldn't be able to tell that your crown or bridge isn't a "real" tooth!
How Long Do Crowns and Bridges Last?
While the materials used to make crowns and bridges are quite durable, they unfortunately aren't designed to last forever. The daily pressures of biting and chewing can wear them down over the years. However, if you take proper care of your restoration with regular at-home oral hygiene and dental checkups, you can expect it to last 10 to 15 years before you need a replacement.
Does Getting a Crown or Bridge Hurt?
Before modifying the tooth or teeth that will support your restoration, your dentist in Spring Hill will be sure to administer a local anesthetic to numb your mouth and maximize your comfort during the procedure. For a few days after we place your temporary crown or bridge, that area of your mouth may be slightly sore, but you can easily manage this by taking over-the-counter pain relievers like acetaminophen as needed. Removing the temporary may also cause some discomfort, but this is usually quite brief.
How Many Missing Teeth Can a Bridge Replace?
Dental bridges are a wonderful method of replacing up to four consecutive missing teeth at the same time. However, this can depend on the status of your remaining teeth. Bridges rely on the support of your existing teeth to stay in place. So, while we can replace one, two, three, or even four missing teeth in a row with a bridge, you might be a better candidate for a partial denture in some cases, particularly if you're missing teeth on both sides of your mouth.