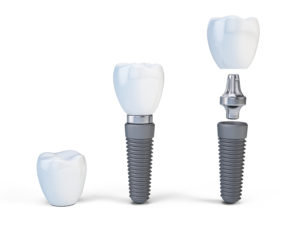 Dental implants in Spring Hill are one of the best ways to replace missing teeth. They provide a strong, sturdy base for a new smile, and they're able to replace just one tooth or an entire arch of teeth. Thanks to advances in modern dentistry, more people than ever are candidates for this treatment. One of these advances is the mini dental implant. How does it compare to its traditional counterparts?
Size
As their name implies, mini dental implants are smaller than regular-size ones. A regular dental implant is between 3.4 and 5.8 millimeters wide, whereas a mini implant is 1.8 to 3.3 millimeters in width. Both types of implants are the same length. The reduced size of mini implants means that even people with a narrow jawbone may be able to receive them.
Uses
Traditional dental implants can be used in a wide variety of situations, helping to replace any tooth in the mouth and resulting in a strong and attractive smile. Mini implants are also useful in a range of circumstances, but they may be best suited for:
Replacing a small tooth at the front of the mouth
Supporting implant-retained dentures
Placement Surgery
Whether you choose mini or traditional implants, the surgery for placing them is basically the same. Your dentist in Spring Hill will make an incision in your gums, exposing the bone underneath. Then, the implant is placed within the jaw. Your dentist closes the gums over the implant.
However, it is worth noting that because mini implants are so narrow, the surgery for placing them is much less invasive than the surgery for placing larger implants. This gives mini implants a number of advantages:
Healing time is much shorter than with regular implants.
It is often possible to place new teeth on mini implants right away. With regular implants, there is often a waiting period of several months.
There is minimal damage to the soft tissue around the implants.
Cost
Dental implants have a reputation for being very expensive, and it's true that they cost more than other tooth replacement methods. However, whether you choose regular or mini implants, the cost is more than worth it because they offer long-term benefits for your oral health. For example, they can stop your remaining natural teeth from drifting out of place and even help to prevent bone loss in the jaw.
Mini implants tend to cost less than traditional implants; for full-mouth reconstruction, the savings could amount to thousands of dollars. The exact price of your procedure will depend on how many implants you need to achieve your desired results.
Which Type of Implant Is Right for You?
Your dentist will perform a thorough examination of your mouth and recommend the type of implant that is best for your circumstances. What's right for you will ultimately depend on your budget, the extent and type of your tooth loss, and your bone density.
Your new smile is waiting for you! Why not talk to your dentist about dental implants?
About the Dentist
Dr. Keith Chapman is your local tooth replacement expert. He has undergone extensive training in mini implant placement and would be happy to help you regain your lost smile. To schedule a consultation, please contact us at 615-302-1414.