June 23, 2020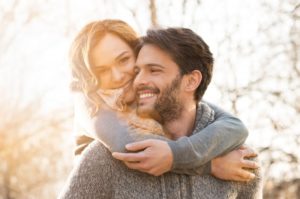 Everyone wants a dazzling set of pearly whites to show off to the world. However, did you know that improving your smile can benefit more than just your appearance? In fact, there are numerous ways that a beautiful smile can help keep your mouth healthier in the long run. Your Spring Hill cosmetic dentist shares seven ways cosmetic dentistry can improve your overall wellbeing.
1.) Dental Implants Strengthen the Jawbone
As soon as a tooth goes missing, your jawbone begins to deteriorate. Thankfully, dental implants replace both the crown and roots of a tooth. The small titanium posts that are placed into your jaw stimulate blood flow, which prevents bone reabsorption as well as a sunken, aged look in the facial features.
2.) Professional Teeth Whitening Can Prevent Sensitivity
If you choose one of the numerous over-the-counter teeth whiteners at your local grocery store, you may end up with sensitive teeth, gum irritation, and subpar results. Additionally, repeatedly using a whitening toothpaste can scratch away your enamel and cause tooth sensitivity as well. If you want a brighter smile, visit your cosmetic dentist for a quick, affordable, and reliable whitening treatment.
3.) Straighter Teeth Promote Better Oral Health
Crooked and gapped teeth create small spaces that can easily trap food particles and harbor bacteria. Since these areas are difficult to clean, you're more likely to develop cavities, gum disease, or dental infections. Straightening your teeth eliminates these spaces and makes it easier for you to keep your smile clean.
4.) Tooth-Colored Restorations Protect Against Future Damage
Tooth-colored fillings and dental crowns are the most aesthetic way to repair damaged or decayed teeth. Not only do they restore the look of a tooth, but they also prevent further damage, fend off bacteria, and strengthen the natural tooth structure.
5.) Cosmetic Dentistry Encourages Better Oral Hygiene
When you invest in the appearance of your smile, you'll be more conscious about how well you take care of it. Numerous studies have discovered that patients who receive cosmetic dentistry show a marked improvement in dental health and at-home oral hygiene.
6.) A Clean Mouth Protects Overall Health
Researchers have discovered that poor oral health can lead to respiratory infections, birth complications, rheumatoid arthritis, and an increased risk of heart disease. On the other hand, studies indicate that properly caring for your teeth and gums can preserve memory and reduce medical costs.
7.) A Beautiful Smile Boosts Mental Wellbeing
When you aren't embarrassed by the look of your teeth, you'll naturally begin to smile more. Not only will you no longer find yourself worrying or feeling self-conscious about your pearly whites, you'll be happier as well. Smiling triggers the release of chemicals like dopamine, serotonin, and endorphins, which foster the sensation of confidence, happiness, and relaxation.
When you take care of your smile your whole body will thank you. A quick visit to your Spring Hill dentist can help your pearly whites look and feel their best!
About the Practice
Family Dental Associates of Campbell Station has helped countless patients in Spring Hill, TN achieve optimal oral health as well as the smile of their dreams. They are dedicated to providing personalized and comfortable dental care to make each visit an excellent experience. With state-of-the-art dental technology, convenient hours, and a variety of patient amenities, they ensure that a beautiful, functional, and healthy smile is never out of reach. If you'd like to learn more about cosmetic dentistry, feel free to contact them via their website or at (615) 302-1414.
Comments Off

on 7 Ways Cosmetic Dentistry Improves Your Overall Health
No Comments
No comments yet.
RSS feed for comments on this post.
Sorry, the comment form is closed at this time.