June 17, 2020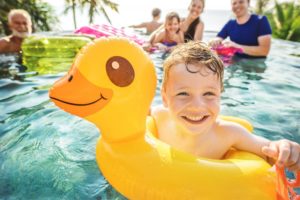 The sun is shining, the weather is warming up, and summer is just around the corner! It's the perfect time of year to relax and enjoy your favorite seasonal activities with friends and family. However, your fun in the sun could be cut short by a trip to your Spring Hill emergency dentist if you don't take a few extra precautions. Keep your family's sunny smiles happy, healthy, and intact all summer long with these six simple tips.
Tip #1: Make a Dental Emergency Kit
Prevention is the best medicine when it comes to caring for your smile, but not every dental emergency can be avoided. Be prepared for whatever summer throws at you by making a dental emergency kit that contains:
Your emergency dentist's phone number.
Gauze and handkerchiefs.
A small container with a lid.
Saline solution.
Aspirin-free over-the-counter pain relievers.
Tip #2: Safely Enjoy Summertime Sports
With the warm weather comes a variety of fun outdoor activities. However, a sudden sports injury can quickly lead to broken or knocked out teeth, cut lips, or fractured roots. Whenever you or a loved one is playing a contact sport, make sure a custom mouthguard is protecting that beautiful smile.
Tip #3: Enforce Pool Safety
Many dentists agree that swimming pool accidents are the main cause of dental emergencies this time of year. Remind your family to stay safe by the pool with a few simple rules:
No running by the pool or on other wet surfaces.
Don't jump or dive into shallow areas of the pool.
Always be aware of how close you are to the concrete ledge of the pool.
Tip #4: Encourage Healthy Summer Snacks
Due to the abundance of sugary snacks like ice cream and soda, summertime cavities can be a real problem. Instead of stocking up on unhealthy foods, encourage your family to eat snacks that can boost their oral health instead! Calcium-rich options like cheese, canned salmon, and almonds can strengthen teeth, while great sources of vitamin C like oranges, berries, and broccoli promote gum health.
Tip #5: Remember Your Daily Dental Routine
While you're relaxing this summer, don't slack off on your dental routine. Your thorough oral health care regimen should include:
Brushing your teeth for two minutes twice a day.
Flossing between all your teeth daily.
Rinsing with an ADA approved mouthwash regularly.
Tip #6: See Your Dentist for a Checkup
It may not be the first thing that comes to mind, but summer vacation is an excellent time to schedule dental checkups for you and your family. It will be easier for you to schedule an appointment for your child once the busy school year is over. Additionally, your Spring Hill dentist will have a chance to detect and treat any small oral health issues before they can become much larger problems while you're away on vacation.
Don't let a dental emergency ruin your fun in the sun. Use these six simple tips to keep those sunny smiles bright all summer long!
About the Practice
Our highly experienced team at Family Dental Associates at Campbell Station has treated countless dental emergencies in Spring Hill, TN. We focus on comfortable, efficient care, which we are proud to provide with state-of-the-art technology and several sedation dentistry options. With early hours Monday-Friday and evening hours on Thursdays, we always go above and beyond to accommodate same-day treatment for dental emergencies. If you or a loved one needs urgent dental care, don't hesitate to contact us via our website or at (615) 302-1414.
Comments Off

on 6 Tips to Avoid a Dental Emergency This Summer
No Comments
No comments yet.
RSS feed for comments on this post.
Sorry, the comment form is closed at this time.