August 20, 2020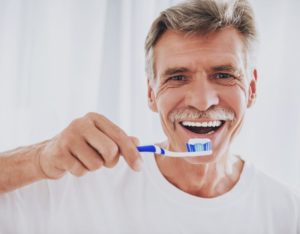 When it comes to replacing missing teeth, dental implants are by far the most comprehensive option. Because they replace teeth from the roots up, they offer significantly more benefits than traditional bridges or dentures. Unfortunately, though, not everyone is an ideal candidate for this life-changing treatment. Are you considering getting dental implants in Spring Hill? If so, here are four factors that would make you a good candidate for them.
1. Adequate Oral Health
One of the most common reasons for implant failure is an infection in the gum tissue supporting the implant. That's why any oral health issues, such as gum disease, should be addressed prior to placing dental implants. During your consultation, your dentist will examine your mouth and determine whether any treatment is needed before implant placement.
2. Stable Overall Health
While you don't necessarily have to be in great physical shape, any health conditions you have should be well-managed. For example, uncontrolled diabetes can make dental implant surgery risky. If you're struggling with certain health problems, you should visit your doctor to get those issues under control before receiving implants.
3. A Strong, Healthy Jawbone
Just like the roots of your natural teeth, dental implants rely on the strength of your jawbone for their stability. This creates a problem for patients who've suffered from tooth loss for a long time, as the jawbone typically deteriorates after you've lost teeth. These patients may need to undergo a bone graft before they can get dental implants. A bone graft involves artificial bone material being attached to your existing jawbone, strengthening the bone over the course of a few months.
4. Patience
The process of receiving dental implants is not a quick one. It can take several months or even up to a year, especially if you require a bone graft. After the implants have been placed, you'll need to wait three to six months for the posts to fully integrate with your jawbone. Then comes the placement of the abutment and final restoration, which can take several more weeks. While dental implants are definitely worth the wait, patients who desire a more immediate form of tooth replacement should examine other options first.
All things considered, dental implants are the most advantageous way to replace missing teeth. Not only do they look and feel natural, but they can improve your oral health by leaps and bounds. If you're interested in a replacement tooth that resembles your natural one almost perfectly, ask your dentist if dental implants are right for you.
About the Author
Dr. Keith Chapman is a dentist in Spring Hill, TN who earned his dental doctorate from the University of Texas Health Science Center at San Antonio. During his postgraduate training at the Zimmer Institute, he learned from an oral surgeon how to place and restore dental implants. To learn more about whether you'd make a good candidate for dental implants, visit Dr. Chapman's website or call (615) 302-1414.
Comments Off

on Are You a Good Candidate for Dental Implants? Here Are 4 Factors to Consider
No Comments
No comments yet.
RSS feed for comments on this post.
Sorry, the comment form is closed at this time.