October 17, 2020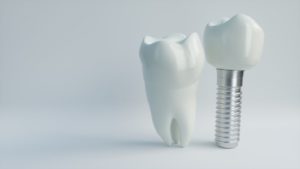 In terms of replacing lost teeth, dental implants are often considered the gold standard. Not only do they provide the highest number of cosmetic and oral health benefits, but they also have a remarkably higher success rate than traditional solutions to tooth loss, such as dentures and dental bridges. In fact, they're more than 95% successful, even after more than 10 years. However, not everyone is a candidate for dental implants in Spring Hill. Here are five problems that could potentially prevent you from getting this treatment.
1. Gum Disease
Healthy gums are absolutely vital for dental implant surgery. If you have an infection, it could damage the gum and bone tissue keeping your implant in place, ultimately leading to failure.
2. Tobacco Use
Whether you smoke it or chew it, tobacco can severely inhibit dental implant success. It slows healing by restricting blood flow to the gums. It also increases your risk of developing gum disease. Most dentists recommend quitting tobacco before getting dental implants.
3. Weak Jawbone
The jawbone often shrinks after teeth have been lost because the roots no longer promote bone growth. As a result, there isn't enough room to place dental implants.
4. Poor Oral Hygiene
Dental implants can only last if you take good care of them If you're not dedicated to maintaining them with diligent oral hygiene, or if you have limitations on your ability to brush and floss every day, you might not be an ideal candidate for dental implants.
5. Certain Medical Conditions
Autoimmune diseases and other conditions like rheumatoid arthritis and type 2 diabetes can cause the body to heal more slowly. This can prevent the implant from properly fusing to the jawbone. Some medications, such as those used to treat depression and heartburn, might also slow down the rate of new bone growth, making dental implants more likely to fail.
Just because you meet one of the criteria on this list doesn't necessarily mean you can never get dental implants. You might simply have to undergo some preliminary work or take extra precautions. For example, bone grafting can strengthen a weak jawbone to give your implants the foundation they need. Give your doctor or dentist in Spring Hill a call to learn more about your eligibility for dental implants.
About the Practice
Family Dental Associates at Campbell Station is proud to be one of the few dental practices in the Spring Hill, TN area to place and restore dental implants in-house. Dr. Keith Chapman and Dr. Allyson Kelly are happy to help you create a healthy foundation for your dental implants so that you can smile confidently for years to come. To learn more about beginning the process of replacing your missing teeth, you can contact their office by calling (615) 302-1414.
Comments Off

on 5 Issues That Could Keep You from Getting Dental Implants
No Comments
No comments yet.
RSS feed for comments on this post.
Sorry, the comment form is closed at this time.