November 21, 2020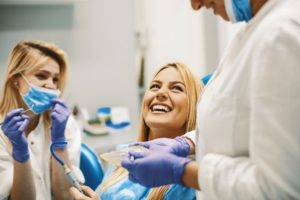 If you've looked at the calendar recently and felt shocked to see that January 2021 is right around the corner, you're not alone! This year will be over before you know it, and as it ends, you may be like many others who still haven't taken advantage of their dental insurance benefits. You make a monthly investment to them, so it's important to make use of them while you can. Your local dentist in Spring Hill shares five helpful tips to maximize your coverage and save money before the year ends.
Maximize Your Dental Benefits With These Five Tips
The last several months of the year are often also the busiest with holidays and traveling, but it's important to prioritize your oral health as well. A recent Oral Heath and Well-Being survey found that people with dental benefits are 58% more likely to visit the dentist and have better oral health. Before the year ends, here are five simple ways you can get the most out of your dental benefits:
Get Preventive Care
One of the most practical ways you can make use of your dental insurance benefits is to see your dentist for regular check-ups. This can help uncover any oral issues before they become bigger, saving you money in the future.
Maintain an Oral Hygiene Routine
This is also a preventive measure, and it's important to brush and floss daily to prevent plaque and bacteria build-up. Plus, with the multitude of sugary and starchy treats your family probably consumes over the holidays, it's always a good idea to pay a little closer attention to your pearly whites towards the end of the year.
Verify That Your Dentist of Choice Is in Your Insurance's Network
It's always good to know exactly what your dental insurance plan entails before you start searching for the right office to call. Some plans require that certain offices be in network for coverage to be effective, so be sure to do your research in order to make use of your benefits.
If You Have FSA – Use It!
Flexible Spending Accounts are notorious for going unused throughout the year. If you have this benefit, you're already contributing, so you don't want to lose those remaining dollars that will expire at the end of December. Make sure to check on your FSA balance, and take advantage of the coverage!
Your Dental Insurance Benefits May Change in the Coming Year
Many insurance plans will be adjusted and different types of coverage may be added or replaced with new policies, so it's important to prepare yourself with what to expect when it comes to your benefits for the coming year. For example, some plans require an annual maximum that, if not used, may not be available the next year.
Regardless of what your dental benefits involve, the end of the year is a great time to maximize them and get your smile in great shape before the new year. Your dentist can talk to you about what options best suit you with your specific plan.
About the Author
Dr. Keith Chapman and Dr. Allyson Kelly lead the team at Family Dental Associates, where they prioritize providing the highest level of care and compassion for their patients. With years of experience as dental professionals, they always ensure that everyone they treat leaves with the knowledge they need to best care for their oral health. Are you ready to make the most of your dental insurance benefits? Schedule an appointment online, or call us at (615) 302-1414.
Comments Off

on Five Ways to Maximize Your Dental Insurance Benefits
No Comments
No comments yet.
RSS feed for comments on this post.
Sorry, the comment form is closed at this time.