December 12, 2020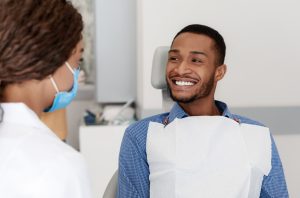 Health is often a top priority for many people at the beginning of a new year, especially now more than ever before. Instead of switching to a crazy dieting plan or running a mile every morning, set a more reasonable health goal this year by scheduling your dental checkup! These biannual visits to your Spring Hill dentist are a great way to keep your smile and body healthy, and there's no better time for your checkup than January!
1.) Look and Feel Your Best for 2021
Have your teeth ever felt rough, unsmooth, or fuzzy when you touched them with your tongue? That texture is caused by a buildup of an invisible, sticky, and bacteria-filled biofilm called plaque. While regular brushing and flossing cleans out most of it, some is bound to get left behind.
During your dental checkup and cleaning, your dental hygienist will clean out every nook, cranny, and hiding space in your smile with special tools and a keen eye. Then, they'll polish up your pearly whites to remove any surface stains in your enamel. Afterwards, you'll be able to walk out of your dentist's office and greet 2021 with a healthy, gleaming smile.
2.) Save Time, Money, & Discomfort
Many people put off their dental checkups because their teeth look and feel fine. Unfortunately, this could easily cost a lot more time and money in the long run! Most oral health issues like dental infections, gum disease, and tooth decay can develop unnoticed. You may not see or feel these problems until they've started to cause damage or discomfort.
Visiting your dentist twice a year for checkups is the best way to spot and stop oral health conditions as early as possible. This dramatically reduces your risk of a dental emergency like a broken tooth, horrible toothache, or infected gums while you're trying to live your best life in 2021.
3.) Make the Most of Your Dental Insurance
If you've just renewed or enrolled in dental insurance, January is an excellent time to visit your dentist and make the most of your benefits. Nearly every dental insurance policy covers two dental checkups and cleanings each year, but sometimes you'll need to wait six months between appointments depending on your specific plan.
Scheduling your checkup in January ensures that you're setting yourself for great oral health in 2021. If you end up needing to pay for anything more than your checkup, such as a filling or gum disease treatment, these expenses will be applied to your deductible and will help you meet it sooner.
4.) Boost Your Immune System & Overall Health
Did you know that a clean smile influences the health of your body? Countless studies show that oral and overall health are linked. Keeping your smile healthy can lower your risk of a wide variety of systemic problems, such as rheumatoid arthritis, diabetes, memory loss, and heart disease. What's more, when your immune system isn't focused on combating small, untreated oral health issues like tooth decay or gum disease, it will have more energy for keeping viruses and other germs at bay.
You deserve a happy, healthy smile. This year, resolve to start 2021 off right by scheduling your dental checkup and cleaning.
About the Practice
Family Dental Associates of Campbell Station is dedicated to providing high-quality, friendly dentistry to smiles of all ages in Spring Hill and the surrounding communities. With convenient appointment hours that fit into your family's schedule and the latest state-of-the-art dental technology, they go above and beyond to make every appointment as pleasant as possible. Whether you or your loved one needs a cleaning, fluoride treatment, TMJ therapy, or sleep apnea screening, you'll find everything you need under one roof. To learn more, they can be contacted via their website or at (615) 302-1414.
Comments Off

on 4 Reasons to Greet 2021 with a Smile and a Dental Checkup
No Comments
No comments yet.
RSS feed for comments on this post.
Sorry, the comment form is closed at this time.