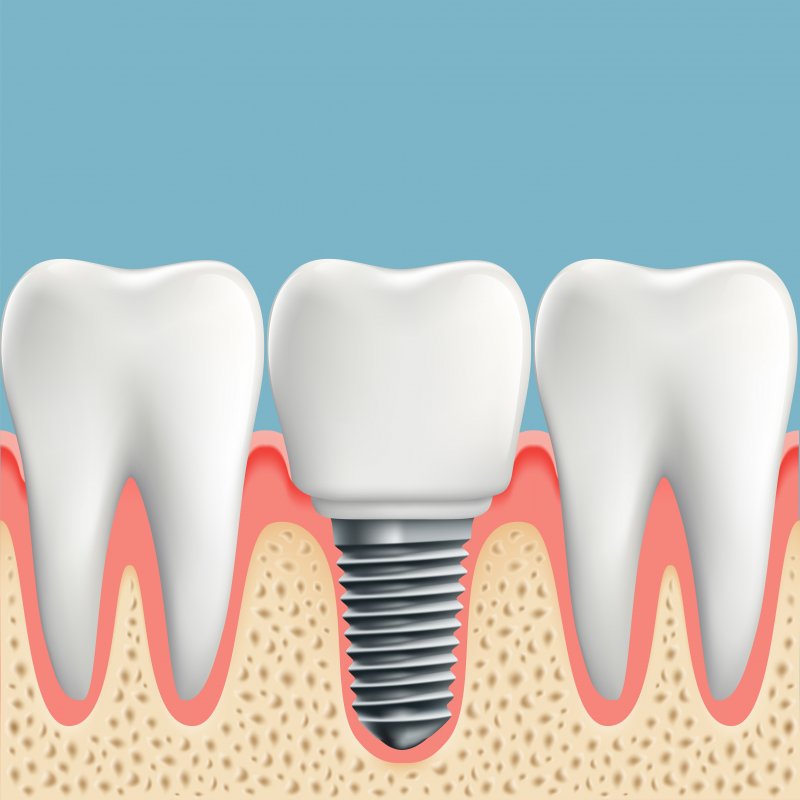 What does it mean when your dental implant feels loose? The implant is meant to feel and function like your natural teeth, and to do so it joins with your jawbone. This makes for a sturdy, reliable restoration, but if your new tooth starts to wiggle around, it likely means that you're experiencing implant failure and need to see your dentist in Spring Hill right away. Learn more about what causes a loose dental implant and what you should do if you end up with one.
How Do Dental Implants Loosen?
Dental implants in Spring Hill can technically come loose at any time, although it's quite a rare occurrence. That said, the issue is most likely to occur during the first few weeks after implant placement. This means that osseointegration – the process of the bone fusing with the implant post – has failed, possibly due to a lack of bone density. Of course, it's still possible for implants to loosen months or years later as a result of peri-implantitis, which is a form of gum disease that occurs around implant posts. Other possible causes include facial trauma and bruxism. Also, note that sometimes what feels like a loose implant is just an improperly fitted restoration or abutment.
What Should You Do About a Loose Dental Implant?
Dental implants should not move in your mouth at all. If you can feel motion whenever you bite, chew, speak, or brush your tongue against the post, then there's no time to lose. You need to call the dentist or oral surgeon that placed the dental implant right away to schedule an appointment. Treat a loose implant like an emergency; if the problem is identified and dealt with early enough, you might be able to salvage it.
Your implant dentist will take X-rays of your mouth and check for signs of damage or infection. The goal will be to understand what exactly is causing the problem. You'll be asked to describe your symptoms in great detail; make sure to mention any discomfort or bleeding, as that could be a huge clue for an infection. Also, your dentist will need to figure out whether the issue lies with the implant itself, with the implant or abutment, or with the surrounding tissue.
It might be possible to salvage a dental implant if the issue is caught early on, but if a severe infection, bone loss, or injury has occurred, the post will most likely have to be removed. You can usually get a new implant after your mouth has been successfully treated and healed, although a bone graft might be required first.
Do you think your dental implant might be loose? Don't make the mistake of ignoring; call your dentist today to set up an appointment. Your new smile can likely be saved, but only if you act quickly.
About the Author
Dr. Keith Chapman was trained to place dental implants and underwent intensive surgical training at the Zimmer Institute. He then spent 8 years providing dental care to hundreds of patients around the world, especially in Liberia. If you have concerns about your dental implant, we encourage you to set up a consultation with Dr. Chapman at Family Dental Associates by visiting our website or calling (615) 302-1414.