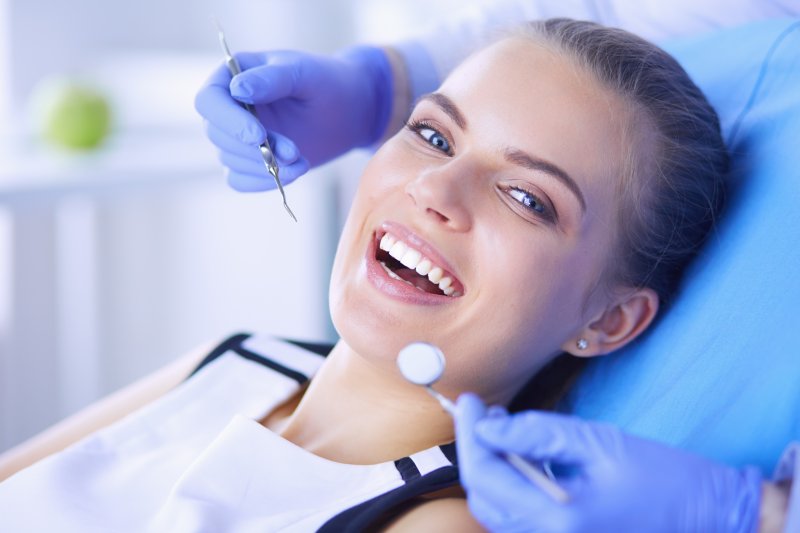 Now that the holiday season is in full swing, everyone's looking for ways to save money. Some may decide to go without certain dental services to reduce their expenses. Although that may initially seem like a good way of doing so, it can cost you much more in the long run. With that being said, here's how regularly visiting your dentist in Spring Hill for checkups and cleanings can bulk up your savings.
Avoid Costly Problems Down the Road
Preventive dentistry is critical for maintaining good oral health. Visiting your dentist every six months for a checkup and cleaning allows them to prevent, detect, and treat problems before they become complications. For example, leaving issues like cavities and gum disease untreated can lead to much more extensive and costly procedures down the line. That's why at your bi-yearly appointments, your dentist checks for these issues so they can be addressed while they're still small and affordable to treat. The good news? Most dental insurance plans fully cover preventive services like oral examinations, teeth cleanings, and routine X-rays. That means getting the care you need doesn't have to break the bank!
Save Money on Cosmetic Dental Treatment
Cosmetic dentistry is an excellent way to address flaws and imperfections in your teeth. However, these treatments aren't typically covered by dental insurance. But do you know what does have a large amount of coverage? Professional teeth cleanings! In fact, most dental insurance plans fully cover two cleanings and checkups each year. By staying on top of your routine visits, you can keep your smile looking bright and healthy all year long. You won't even feel the need to spend additional money on whitening treatment!
Prevent Dental Emergencies
Even though not every dental emergency is avoidable, there are many steps you can take to prevent one from happening. Regularly visiting your dentist is one way to significantly lower your risk of a painful and expensive dental emergency. Your dentist in Spring Hill can examine your mouth and detect factors, habits, or developing issues that might be increasing your chance of dental infections, chipped teeth, or even gum disease.
Spend Less on Overall Healthcare Costs
The divide between oral health and overall health is not as black and white as it may seem. Studies show a strong connection between poor oral health and a higher risk of respiratory infection, diabetes, arthritis, and heart disease. Therefore, by keeping your teeth and gums healthy, you can expect to spend less on overall healthcare costs.
Regularly visiting your dentist in Spring Hill is the best thing you can do for your smile and wallet. If you're worried about the costs, ask your dental team which dental insurance they accept and what financing options are available. They'll be more than happy to help!
About the Practice
At Family Dental Associates, we offer comprehensive, exceptional, individually tailored dental services guaranteed to meet all your oral health needs. Our team is passionate about helping patients of all ages achieve their healthiest smiles – without having to break the bank. If you have any questions about your dental insurance, we're more than happy to answer them for you. Visit our website or call (615) 802-4044 to speak to a member of our team.