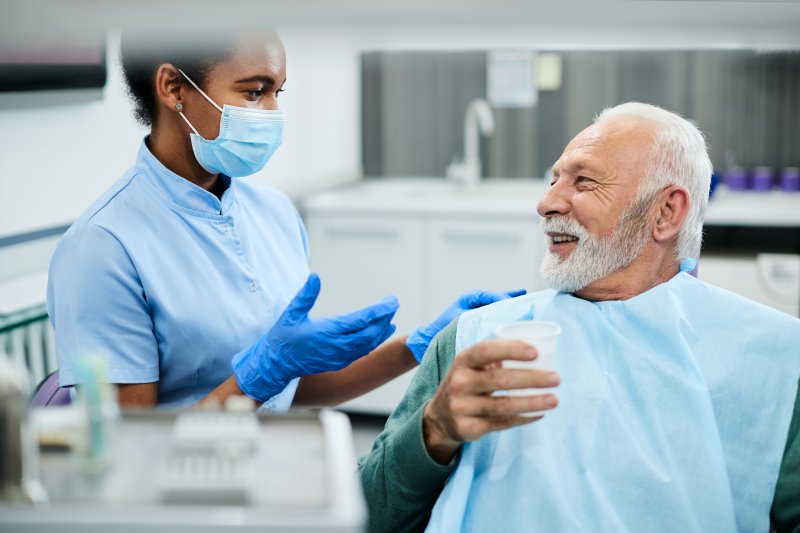 Dental checkups are key to keeping your teeth looking their best. If you don't have any remaining teeth and wear full dentures to replace them, you may think that there's no reason to continue visiting the dentist every six months. Since dentists focus on more than just teeth, this couldn't be further from the truth! Read on to learn four reasons why you should continue attending dental checkups with dentures.
#1: Maintain Great Oral Health
Cleaning your dentures at home is an important part of maintaining good oral hygiene, but so is visiting your dentist. During these visits, your teeth will be thoroughly cleaned to remove buildups of plaque and tartar. This will lessen your risk of oral health issues and help you continue to enjoy your smile problem-free.
#2: Detect Issues Early On
Dentures can't get cavities like your natural teeth, but your pearly whites aren't the only part of your mouth that can develop oral health issues. If you don't properly clean your dentures and the rest of your mouth, you may develop gum disease. This can cause serious damage to both your gums and your jawbone, which may begin to erode. By visiting your dentist every six months, you can have oral health problems treated before they get any worse.
#3: Adjust Your Dentures for Maximum Comfort
When you lose teeth or have them pulled, your jawbone begins to deteriorate. This is because it's no longer receiving the stimulation it needs to remain healthy. For this reason, your dentures will need to be adjusted after a while. Your dentist will be able to determine if this is necessary during your dental checkups. They may also recommend alternatives like implant dentures to lessen jawbone erosion.
#4: Prolong the Life of Your Dentures
Full dentures can last anywhere from five to 10 years as long as you take good care of them by cleaning and soaking your restorations every night. This also means visiting your dentist for biannual appointments. This will allow them to inspect your dentures and determine if they are in good condition or need to be repaired or replaced.
Whether you have all, some, or none of your natural teeth left, visiting your dentist two times per year is a crucial part of keeping your mouth healthy. If it's been more than six months since you've attended one of your yearly dental checkups with dentures, schedule one today to keep your smile looking its best!
About the Practice
Do you need help maintaining a gorgeous grin? Family Dental Associates At Campbell Station is here to help. If you're missing all of your teeth, they offer dental checkups with dentures to make sure your restorations look and function as intended. This way, you can keep oral health issues from developing and ensure that your smile continues to look its best. Do you want to make an appointment with Family Dental Associates At Campbell Station or are you interested in learning more about their services? Visit their website or call their office at (615) 802-4044 to get started.